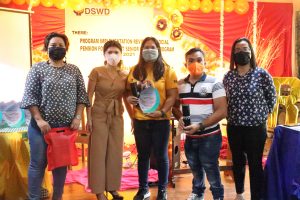 To avoid missing out on the program targets, the Social Pension for Indigent Senior Citizens Program of the Department of Social Welfare and Development (DSWD) Field Office Caraga conducted a series of provincial Program Implementation Reviews (PIR) for the C.Y 2021.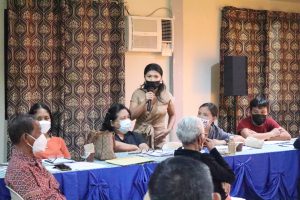 The decade-long program implementation has been fortified with the conduct of the PIR, through the engagement between DSWD and its partner-stakeholders. One of the highlights of the conduct of the activity is addressing the issues and concerns raised among parties, and revisiting the targets and the goals for the said program.
This has paved a way for the program handlers and its partners to do necessary adjustments to improve the program's implementation, and successfully hit its targets.
"For a decade of implementation, we have seen changes including the number of beneficiaries served. As the agency prepares for the transition of Social Pension Program to the National Commission on Senior Citizens, we have different activities conducted one of which is the Program Implementation Review, to assess the gains and successes of the program and to come up notions out of the challenges encountered during the implementation," Protective Services Division Chief Jessie Catherine B. Aranas shared during her inspirational message.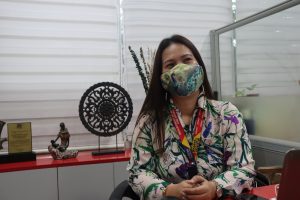 During the PIR, the best efforts and best performance of partner-LGUs were also recognized through the support of their Local Chief Executives and their Local Social Welfare and Development offices. A plaque of recognition was given as a simple gesture from the agency for their great contributions.
The following were the schedule of the conduct of the activity:
October 27, 2021 – Gateway, Surigao City, Surigao Del Norte (Surigao del Norte/PDI LGUs);
October 29, 2021 – Viel's Harborage, San Agustin, Surigao Del Sur (Surigao Del Sur LGUs);
November 9, 2021 – Mabes, San Francisco, Agusan Del Sur (Agusan Del Sur LGUs);
November 11, 2021 – Amontay Beach Resort, Nasipit, Agusan Del Norte (Agusan Del Norte LGUs).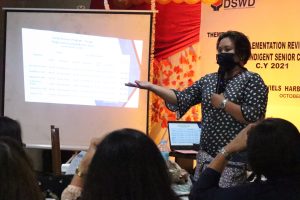 The event aims to identify gaps in the program implementation and its corresponding recommendation, and enhance job performance and coordination while establishing harmonious relationship among partners especially Local Government Unit implementers for the effective and efficient delivery of services through Social Pension for Indigent Senior Citizens Program.