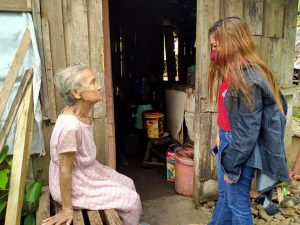 To ensure elder persons are not left behind in the response to the threat brought by the pandemic, the Social Pension for Indigent Senior Citizens Program (SPISC) continually assess the immediate needs of its beneficiaries, and provide appropriate interventions.
With this, the Department of Social Welfare and Development (DSWD) FO Caraga in collaboration with the Local Social Welfare and Development Office (LSWDO) of Trento, Agusan Del Sur, provided an elderly couple – whose been dependent on the SPISC Program aid for their sustenance, food and financial assistance.
The assistance is in line with the Agency's commitment to continuously implement significant programs and services to the indigent and vulnerable sectors. FO Caraga, handed over family food packs, cash aid, a water tumbler, and ID holder to the couple Restituto and Carmen Gillo-ano.
The couple, after its thorough assessment was referred to the Assistance to Individuals in Crisis Situation (AICS) to address their growing needs. A few years back, Restituto had a serious which caused him serious injury, which eventually made him bedridden. Financial constraints prevented him from getting medical treatment, so he relied on herbal medication/treatment. Carmen, his wife, also has hypertension and suffered from stress disorder due to the hardships they are encountering. But the most devastating blow to their situation is losing contact from their son who went missing after going out to sea.
With all that has happened to their family, the couple could not contain their emotions during one of the visits of the agency's social workers after being endorsed by the LSWDO. According to Rose Marie Sarabosing, SPISC Program Social Worker, Tatay Restituto cried and asked for some help to ease their difficult situation, during their initial visit. Right after the assessment, several referral and close coordination was made in order to provide for the needs of the couple.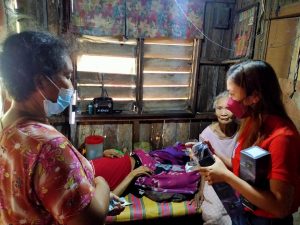 "They were so happy with the cash and food assistance.  They felt loved with the care provided by the Agency. I also noticed the changes from my first visit to the second one; the couple were already able to clean their home and they are more hygienic. I'm just happy that they followed  my reminders positively. It is also fulfilling to listen to how grateful they are with the DSWD's assistance," Rose Marie Sarabosing, shared.
Even with the challenges to travel and mobility due to the pandemic, DSWD, through the AICS and SPISC Programs has been relentless in its commitment to provide Maagap at mapagkalingang serbisyo, through its programs and services, especially to those belonging to the vulnerable sectors, one of which are the indigent senior citizens.