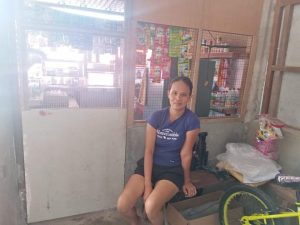 A mother's love is always unconditional and immeasurable. It is a mother's love that hugely shapes the wellbeing of a person. A home without a mother can be different, dark, and lonesome.
In Poblacion, Bislig City, a mother's love became the most significant attribute for a family to survive a painful, unexpected, life-changing incident. Michelle de Castro, a solo parent with two children, used to be a kakanin vendor. She's the sole breadwinner of their family. Aside from providing for her children, she supports her mother who is a stroke patient and senior citizen as well.
Michelle's family was doing fine until a fire broke in their barangay last 2019 and burned their house and belongings to the ground – leaving nothing but ashes. Fortunately, the family was able to get out of their blazing house without getting hurt. With the help of their neighbors, Michelle was able to bring to safety her two little children and sickly mother.
"Sa panahon sa sunog, kami lang sa akong mga anak ug mama ang naa sa balay. Maayo na lang naay mga silingan nitabang sa pag-agak sa akong mama (When the fire happened, my mother, children, and I were the only ones at home. Luckily, our neighbors assisted my mother from getting out of the house)," Michelle shared.
After the fire subsided, Michelle was devastated. She didn't know how they were going to survive the accident especially since her whole family depends on her. The only thing that Michelle knew at that moment was that she was willing and ready to do anything to help her family get through the situation.
Days after the accident, the Local Government Unit of Bislig City extended financial aid to the families affected by the fire – including Michelle's family. This abled Michelle to buy some basic needs for her mother and her children.
But the biggest blessing that came Michelle's way was the financial assistance she received from the Sustainable Livelihood Program (SLP) of the Department of Social Welfare and Development (DSWD) last June 10, 2021. One of DSWD-SLP's interventions is to provide cash assistance to families displaced by disasters or better known as Internally Displaced Persons (IDPs). The said cash assistance shall be used by the recipients as a seed capital fund to finance a livelihood of their choice.
Instead of resuming her kakanin business, Michelle opted to start a small sari-sari store because she thought that this type of livelihood would have a quicker income return especially in the midst of the COVID-19 pandemic. "Nag-ilis ko og panginabuhian kay walay face to face classes karon. Dati namaligya ko sa skwelahan ug pirmi jud mahurot akong baligya. Karon lisod man ibaligya ang kakanin, nag sari-sari store na lang ko para sab mabantayan nako akong mga anak ug mama. (I changed my livelihood because there are no face to face classes right now. Before, I used to sell [food] in school and would always be sold out. But now, kakanin is hard to sell hence, I opted to set up a sari-sari store so that I can also watch my children and my mother)."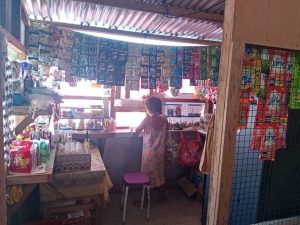 At the moment, Michelle earns a monthly income of Php 30,000. This allowed her to continue supporting her family despite the hard season they went through after the fire. Even if getting by every day is a challenge for Michelle, she's willing to endure anything just to be able to give her family a good and comfortable life.
Along with her desire to give her family a pleasant life, Michelle also plans to set up a savings account for her children's education. In order to do so, she eyes to extend her business by selling frozen products and rice and catering services. "Nagplano ko nga mag-extend sa akong negosyo para mas mudako ang akong kita ug mapalambo ang akong negosyo (I'm planning to extend my business so that my income would increase and my livelihood would grow)," Michelle said.
She also added, "Ako mapasalamaton gyud kaayo sa tabang nga nadawat nako gikan sa DSWD-SLP. Dako kaayo ning tabang sa ako labi na usa ko ka solo parent ug naay ginasuportahan nga inahan nga masakiton (I'm very much thankful for the assistance I received from DSWD-SLP. This is a huge help to me specially that I'm a solo parent and I'm currently supporting the needs of my mother who's sick)."
Michelle's profound love for her family has been integral in their recovery journey. Despite the hurdles they experienced, it didn't Michelle from working hard and relentlessly for her family. No doubt, a mother's love is powerful – a type of love that transcends any human experience.###(Social Marketing Section/DSWD Field Office Caraga)