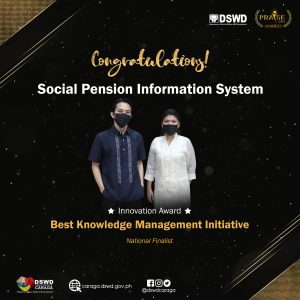 The Social Pension Information System (SPInS) of the Department of Social Welfare and Development(DSWD) Field Office Caraga, which is the current Social Pension for Indigent Senior Citizens Program (SPISC) database system, bagged the 2 nd place Best Knowledge Management Initiative during the 2021 DSWD PRAISE National Awards via virtual podium on January 21, 2022.
The PRAISE Awards is an annual recognition of the exemplary employees and offices of DSWD in terms of public service held during the DSWD anniversary celebration at the Malakit Building of Quezon City, Manila. Innovation award is given to an exemplary Knowledge Management (KM) initiative, specialized in the field of its function.
With the aim of an improved quality and cost-effective provision of the program's services, SPInS was formulated in 2011, during the first year implementation of SPISC. During this time, the Field Cffice had a hard time in carrying out the implementation of the program due to the increasing volume of beneficiaries packed with challenges that need an immediate response. Thus, the timely innovation made the tracking and storing of data easier.
Truly, the recognition boosted the optimism of the SPISC staff and creator of the system to thrive, especially in adhering to one of the Department's mission of sustaining a culture of excellence by continuous improvement of systems for a well-ordered delivery of services to the poor, vulnerable, and disadvantaged individuals, families, and communities.