Usbaw is a Cebuano term which means to improve or prosper; and clearly the Convergence Action Team (CAT) of La Paz, Agusan del Sur has put into heart this word in delivering their work.
The team has its vision, mission and goals that are fully understood by each member. Their goal is to cater useful and premium services to their beneficiaries through the following:
Offer livelihood programs and trainings for the unemployed to take chances of getting a job;
Provide protective, active, and healthy lifestyle for children and the youth by addressing their needs and their concern;
Uphold moral values and advocate awareness about women and children's rights through information dissemination such as regular Youth and Family Development Sessions and;
Embolden beneficiaries to be proactive for their welfare as part of empowering the society.
These set goals are in harmony with the result of the latest Social Welfare and Development Indicator.
The convergence of the Pantawid Pamilyang Pilipino Program (4Ps), Sustainable Livelihood Program (SLP), and Kapit-bisig Laban sa Kahirapan – Comprehensive and Integrated Delivery of Social Services (Kalahi-CIDSS) or the core programs of the Department, is efficiently implemented to achieve harmonious working environment that would benefit the communities.
Pantawid Pamilyang Pilipino Program
In 2018, the 4Ps implemented the Cash-for-Work program entitled "Construction of Toilet Facility" and a convergence initiative to construct toilet facilities for Regular Conditional Cash Transfer (RCCT) beneficiaries that aims to decrease the incidence of diseases related to unsanitary environments. Due to non-compliance with having sanitary toilet facilities of the household in the community, children have significant risks to contact diseases or sickness such as malnourishment, schistosomiasis, diarrhea, cholera and other related diseases.
Through the help of the Rural Health Unit, they distributed toilet bowls as a counterpart and support for the 4Ps beneficiaries in uplifting their level of well-being in Health and Sanitation – a total of 450 in 2018, 600 in 2019, and 2,000 toilet bowls in 2020 were provided.
Through this project and initiative, the Local Government Unit of La Paz has formally launched the Health Governance initiatives last December 2020 after the declaration of the LGU as a certified Zero-Open Defecation Municipality, the first municipality that was declared in the Province of Agusan del Sur.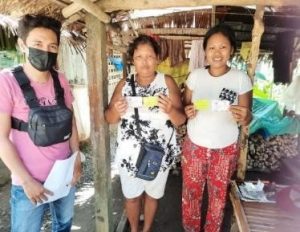 RHU-La Paz has developed harmonious relationships with partner stakeholders, and is assured to continuously conduct regular inspection and monitoring in the community as to the status of usage of toilet facilities in the community.
Moreover, 4Ps encountered grievances about cash card (ATM) pawning issues, in which some of the beneficiaries are able to loan their grants with their documents used as collateral. In line with this the Province stipulated the Ordinance no. 10 series of 2017 entitled "An Ordinance Prohibiting the Use of 4Ps Cash Card, Pantawid Identification Card, or Pantawid Kasabutan as Loan Collateral or Pawn Security in the Province of Agusan Del Sur" was strictly adopted in the municipality. The staff conducts spot-check and monitoring regularly, wherein the beneficiaries are required to present their cash cards, kasabutan, and ID. If they fail to show any of these, they will then be given a warning letter.
The 4Ps beneficiaries are also engaged in the community activities, in fact, they bagged the first prize on the 2019 Best Communal Garden search. The beneficiaries of Barangay Langasian was able to craft an initiative to create a communal garden located at Langasian Elementary School.
Sustainable Livelihood Program
SLP is a capacity-building program that enables individuals/families to be economically active with income-generating projects through micro-enterprise and/or employment.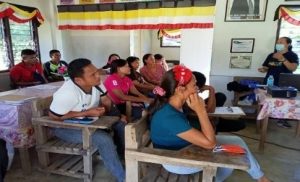 With the Executive Order No. 70-2018, a government policy on "Institutionalizing the Whole-of-Nation Approach in Attaining Inclusive and Sustainable Peace, Creating a National Task Force to End Local Communist Armed Conflict and Directing the Adoption of a National Peace Framework," SLP works with other member-agencies of the Task Force to maximize resources and ensure non-duplication of assistance.
Through this executive order, the LGU conducted a cheque turn-over to Conflict Vulnerable Area to associations granted by the DSWD to associations created within the municipality. DSWD was able to successfully award grants to  seven (7) Conflict Vulnerable Area (CVA) SLP Associations namely:
KASAPA II Indigenous Farmers Association (Rice Trading)
Damayon Farmers Association (Consumer Store)
Makupahon Indigenous Farmers Association (Agricultural Farm Inputs)
Kalampayan Manobo Farmers Association (Motor Spare Parts)
Sangurda USAD Farmers Association (Buy-and-Sell)
Lydia USAD Farmers Association (Buy-and-Sell)
San Patricio Farmers Association (Buy-and Sell)
Kalahi-CIDSS
For the past decades, LGU La Paz has been one of the recipients of the program. Through the efforts of the Office of the Sangguniang Bayan, they crafted Executive Order No. 1 Series of 2021 – the activation of the municipal inter-agency committee for the implementation of the program.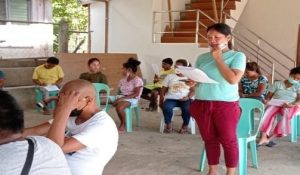 With this, more than 50 sub-projects were implemented in all 15 barangays. Recently, the KALAHI CIDDS PAMANA IPCDD CADT 117 commenced its implementation in 2018, and continued its implementation for Batch 2 Cycle 3. The municipality of La Paz has 9 barangay beneficiaries under CADT 117. The Program has covered cycle 1, 2 and 3 for three years' implementation.  The LGU provided municipal local cash counterpart and in-kind counterpart contribution used for the community-based implementation support for the activities and administrative cost such as hiring of workers, supplies and for the operation of the implementation.
Municipal Local Cash Counterpart for CADT 117
2018 Cycle 1-2    – P2,100,000.00
2020 Cycle 2-1    – P1,520,000.00
2021 Cycle 3        – P1,500,000.00
Municipal Local Cash Counterpart for CADT 077
2020- Batch 3 Cycle 1 – P498,120.00
2021- Batch 3 Cycle 2 – P571,020.00
Moreover, Kalahi-CIDSS Additional Financing was formally launched in La Paz last August 21, 2021 thru virtual meeting with the presence of the Local Chief Executive and other Heads of Offices. The Office of the Municipal Mayor was able to craft Executive Order No. 5 Series of 2021 to support the implementation of KALAHI CIDSS: Additional Financing, with a counterpart worth P957,000.
The support of the Local Government Unit and partner stakeholders are explicitly expressed and demonstrated through their commitments and support through implementation of harmonized interventions.
With the consistency of the team to commit and serve the La Paznons, the covergence team of La Paz strengthens its coordination and efforts to give quality and efficient services to the poor, marginalized, and disadvantaged individuals, families, and communities in the municipality. The team ensures to give fair share of the workloads and is well-aware of their responsibilities. Thus, LGU La Paz together with the convergence team were exceptionally active in addressing the needs and extending help to its people – to improve and bring prosperity, or in Cebuano, USBAW! ###(Social Marketing Section/DSWD Field Office Caraga)