Another commendation from the DSWD Field Office Caraga family!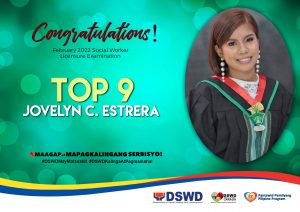 Jovelyn C. Estrera, a member of the Pantawid Pamilyang Pilipino Program (4Ps) registered household, landed the TOP 9 spot of the 2022 Social Worker Licensure Examinations (SWLE) with 82.20% rating.
She graduated in Caraga State University last year, along with her three (3) co-topnotchers, and they were pioneer graduates for the Bachelor of Science in Social Work (BSSW) Department.
"Pagtan-aw gyud nako nga naa ko sa Top 9, akong gi-question akong kaugalingon kung tama ba gyud ang result, dili jud ko makatuo. Nagsige ko'g hilak, tapos sa nagkadugay na lipay kaayo ko kay sauna ang ako ra jung maingon basta naay mag-topnotcher, 'Hala Lord, unsa kahay feeling na mag-top? Mao ra jud to akong pangandoy. Mao nagpurisge gyud ko (When I saw that my name is on the list of topnotchers, I questioned myself if that was right, because I really cannot believe it. I cried, then later on when things began to set in, I was so happy because before, every time I see news of board exams results, I always, 'Lord, I just wonders how do people feel being topnotchers?' That was my dream, that's why I persisted)," Estrera exclaimed.
Her family is currently residing in Sta. Irene, Prosperidad, Agusan del Sur. In 2019, she was part of the team that won the 3rd prize for the 4Ps Caraga Filmmaking Contest with the entry, "Gulay is Life."###(Social Marketing Section/DSWD Field Office Caraga)###(Social Marketing Section/DSWD Field Office Caraga)