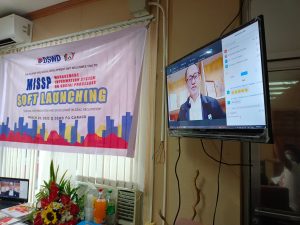 The KALAHI-CIDSS Caraga, through its Social Development Unit and IT personnel, has launched on Monday, March 28, a digital system that will help its staff in the functional facilitation of the Community Empowerment Activity Cycle (CEAC).
The Management Information System on Social Processes (MISSP) will help the KALAHI-CIDSS Regional Program Management Office (RPMO) address difficulty generating the means of verifications (MOVs), challenges along compiling and safekeeping of documents, lost documents, and untracked documents on full-blown proposals.
Moreover, MISSP will also address unsystematic filing of documents, weak capturing of reports on CEAC tracking, and weak analysis on the social process along with time and cost of CEAC.
CEAC is the platform used by KALAHI-CIDSS or the Kapit-Bisig Laban sa Kahirapan Comprehensive and Integrated Delivery of Social Services for engaging communities in a facilitated process of community analysis, planning, project implementation, monitoring and evaluation. It provides communities in putting CDD principles to practice.
DSWD Caraga OIC-Regional Director Ramel F. Jamen congratulated the RPMO for its innovation, adding that RPMO and field staff should use MISSP as well as other systems for more efficient and effective facilitations.
"Modern technology is indeed a powerful influence, and with that, with pride I will say, congratulations to all of you here, in one way or another you have contributed to this development," Director Jamen said.
"With this technology and initiative, I can say that we have step up the notch in ensuring accurate output in the CEAC process. That we can track all your activities in a timely manner. Every day we become more and more efficient in our work in the service for the community," he said.
"All these upgrade and innovations will be put to vain if not properly used by our staffs and team in the field. So, I encourage everyone to make use of all our systems for more efficient and effective facilitations, especially the MISSP as the latest addition," Director Jamen added.
Other than MISSP, KALAHI-CIDSS RPMO Caraga have developed other digital tools such as the Community Finance Management System (CFMS), MOVs Repository and Management System (MRMS), and PRO Locator mobile application.