Just like other typical Filipino families, 39-years old Guy Bondoc from Barangay Ampayon, Butuan City desires to have a better life together with her family. A simple life, but is enough to enjoy their basic needs and some of their wants.
Guy, a loving mother to 4 sons and 2 daughters, works in a sari-sari store owned by her sister. Even with her small income, Guy enjoys every bit of her stint as her job is able to provide some of the needs of the family. But when the pandemic struck in 2020, she struggled financially as her sister's small business was affected. She had a hard time sustaining an income for her family.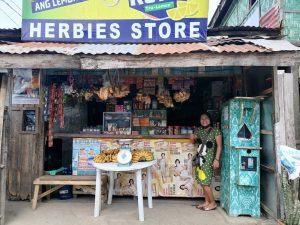 But the effects of the COVID-19 pandemic turned out to be a blessing for Guy as it became a doorway for her to venture on something that she never thought she would have the courage to do. After receiving the Livelihood Assistant Grant (LAG) from the Department of Social Welfare and Development (DSWD) Field Office Caraga, she invested the money selling plastic ware and clothes online. At first, it was tough knowing that she had competitors online, but she never stopped, in fact it motivates her to do her best.
Since then, the family's life changed drastically.  With an earning of Php12,000.00 monthly, Mrs. Bondoc was able to buy appliances and furniture. Her greatest achievement was when she started to fund the construction of their house.
"Tungod sa kita nako sa online business, magpuyo na gyud mi sa among kaugalingong balay. Panahon nga kami magkaon, dili na kami magyaka kay naa naman lamesa ug lingkuranan. Ako nagpasalamat sa grasya nga gihatag sa amoa sa Ginoo ingon man sa assistance nga gihatag sa gobyerno (With the income of my online business, we will soon live on our own home. During our meals, we will no longer sit on the floor as we were able to purchase table and chairs. I am grateful by the grace God has given to us as well as the assistance given by the government)," Guy said.
Guy is now enjoying the fruits of her labor – though it is not that extravagant, but it was way better than where they were prior to the pandemic. Though there are days when the income from her online business is low, she doesn't worry since there are days when she earns way over her quota.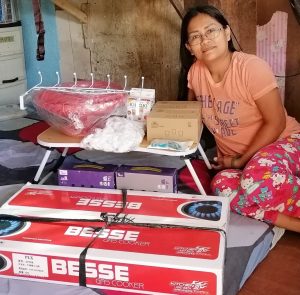 "Lisod kaayo kay naay mga panahon nga hinay ang halin. Usahay dako pa ang imung expenses pero hugotan lang jud ang bakos ug padayon. Naa koy 6 ka anak ug sila ang rason nga maningkamot mi magtiayon. (It is hard because there are days when our business sales are low. Sometimes our expenses are higher than our income, but we tighten our belts and continue. We have 6 children and they were the reasons why we strive harder)." Guy shared.
Mrs. Guy Bondoc, is one of the thousands of families who benefited from the LAG program- program of the DSWD that provides aid to families with low income, severely affected by COVID-19 pandemic. Just like any other beneficiary, she wasted no time and invested the money wisely to keep her family afloat amidst the pandemic's challenges. ###(Social Marketing Section/DSWD Field Office Caraga).