To review the policies and guidelines and address the pressing issues of the program, the 1st Quarter Regional Technical Training Session (RTSS) of the Pantawid Pamilyang Pilipino Program (4Ps) Caraga was conducted last April 7-8, 2022 at the Pavilion, Watergate Hotel, Butuan City.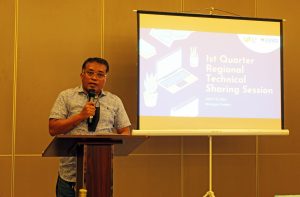 DSWD Field Office Caraga OIC-Assistant Regional Director for Operations (OIC-ARDO) Jean Paul S. Parajes delivered his opening message and reminded the Program workforce to assess their deliverables and targets, with emphasis on the Modified Conditional Cash Transfer (MCCT) modality implementation.
The sharing session, initiated by the 4Ps Regional Program Management Office (RPMO), is an avenue to facilitate the effective implementation of the Program, and establish the new policies and guidelines especially that 4Ps is now forwarding towards its third year since it has been institutionalized.
"With the Republic Act 11310 at hand, this session shall recognize our various roles in the fulfillment of our program goals and objectives for the benefit of our clientele (the 4Ps beneficiaries all over Caraga), a role that is crucial for us to look into as their bridge to self-sufficiency," ARDO Parajes said.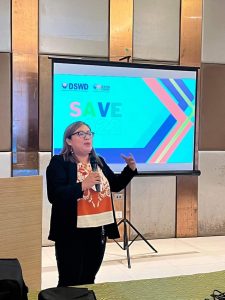 To cap off the two-day activity, Crislea D. Celeste, 4Ps Caraga Regional Program Coordinator/Division Chief, highlighted the operational perspective of 4Ps Caraga on DSWD Field Office Caraga's Thrusts and Priorities for CY 2022 in which she gave an acronym S.A.V.E in her presentation.
First is to SUSTAIN the annual Katumanan as a good practice where the self-sufficiency of the beneficiaries is the utmost priority leading to their eventual exit from the Program. Secondly, the ADMINISTRATION of Social Welfare and Development Indicators (SWDI) as mechanism in monitoring the progress of the beneficiaries' well-being anchored from strengthened strategic case management.
Third, the VACCINATION rate of beneficiaries increased since this is among the Government's priority during the pandemic. And lastly, the EXCELLENCE at work maintained by institutionalizing and/or recalibrating internal controls and valuing the over-all well-being of all staff.
Furthermore, Celeste also recognized the 4Ps workers who have given special effort in presenting their Individual Performance Contract 2nd Semester Accomplishment. For the Provincial Category, Meiraflor Cabigon, Agusan del Sur provincial link, received the "Visionary TaLINKted," and for the RPMO Category, the Sectoral Concerns Unit was given the "Ingenious Presenter" recognition.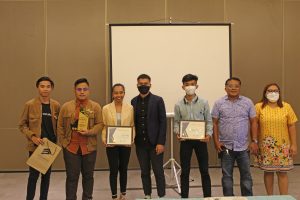 The RTSS is done on a quarterly basis to have a timely updating and monitoring of all the systems and components of the Program. The Provincial Operations Offices (POOs) also showcased their innovations/best practices, and raised their issues/concerns experienced on the ground.
Moreover, the winners of the 4Ps Caraga Filmmaking Contest last year were recognized during the activity, wherein EMT Studios placed first and received a plaque of recognition, and cash prize worth P50,000. ###(Social Marketing Section/DSWD Field Office Caraga)###(Social Marketing Section/DSWD Field Office Caraga)