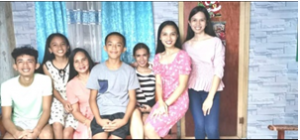 Being a mother of eight has never been easy for Teofila Pacot, a Pamtawid Pamilyang Pilipino Program (4Ps) grantee. Like every expectant parent, the dream of a complete family was what one prays and dreams of. But for Teofila, her little heaven on earth came crashing down when her husband left her and their children for no apparent reason.
In 2011, after going through the painful ordeal of the abandonment of her husband, Teofila tried to contain herself, and begin their life anew. In order to achieve this, she had to put the past behind and try to provide for her family's needs – this meant she had to work double-time being a single parent.
It wasn't easy, she had to go through the ups and downs of looking for a job that could sustain her and the children. Teofila worked as a laundress. In her spare time, she also sold frozen foods like longganisa, tocino and eggs. She also worked as bookkeeper in a certain cooperative for 6 months. She even taught her children how to sell barbeque in the evening in order to get extra income.
Regardless the ordeals and setbacks their family was going through, Teofila is grateful with the provisions God have been blessing her and the family – these challenges taught her humility.  "Nalipay ko sa gihatag nga panalangin sa Ginoo sa akoa, naa koy mga anak nga mahinadlukon sa Dios ug may respeto (I'm glad with the blessings God had bestowed upon us, I have God-fearing and respectful children)," Teofila, expressed.
At present, the household of Ms. Pacot has three degree holders with noble works that can sustain their younger siblings. Jane Christine works in the local government unit of Buenavista, Agusan del Norte as encoder in the General Services Office (GSO), Jessa Ella Mae is a licensed teacher who works at Father Saturnino Urios University assigned in Principal's Office, and Nina Merra Claire graduated last 2021 and successfully got her license as Social Worker on February 2022.
For the typical person, being successful means the achievement of their desired goals and dreams. However, for Teofila, success is a blessing only God can confer. Never in her journey in life did Teofila felt that God has forsaken her. "Bisan nakaagi ko nga naglisod ko, labi na sa pagbiya sa akong bana, wala ko mibati nga gisalikway ko sa Ginoo – anaa siya kanunay nag tabang sa amo (Even if I have experienced hardships in life, especially when my husband abandoned us, I have never felt that God forsake us. He has always been there for me and my family)," Teofila said.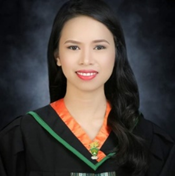 Today, Teofila is enjoying the love and support from her children – her hard work has paid off. She worked hard to provide for her family, now, their dreams are slowly turning into reality with the success of her children – something she is very proud of as a single parent.