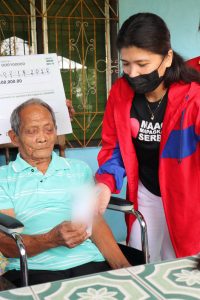 Love and attention are essential requisite in taking care of the old. Frail, fragile, and delicate as they are, these persons need all the respect and admiration for their experiences going through life. And what wonder for one to meet someone who has reached the big 1-0-0. Well, you will definitely admire Jose Inso of Prosperidad, Agusan Del Sur once you meet him.
Born on January 18, 1921, Lolo Jose is exactly 101-year-old this year. He maybe is in a wheelchair but this does not negate the innate perkiness and hilarity he has to offer. When told about the cash grant he'd receive, his reply cracked up everyone – "Oy sige maghubog ta'g tunga sa adlaw (Okay, let's go get drunk for half a day)" he said with a big smile.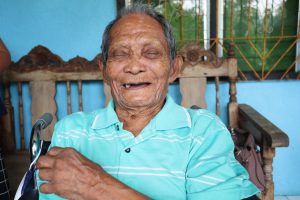 His demeanor and positivity in life is somewhat a factor in how he looks and feel – this is why how he looks does not really portray that of a 101-year old man.
Lolo Jose is in the care of his daughter-in-law, Sabina Inso. According to Sabina, Lolo Jose has never suffered any illnesses other than some sort of minor infirmities due to the body's wear and tear. When asked about Lolo Jose's unprecedented run to a 100 years old, Sabina shared that "Isa sa iyang unahon permi, pagkaon. Ginasigurado gyud niya nga mukaon sa saktong oras ug likayan nga mapasmo. Sa batan-on pa siya, ganahan siya mag joker-joker (He makes sure that he eats properly, and that he eats on time – he doesn't want to skip meals. When he was younger, he loves to joke around)."
Under the Centenarian Act of 2016, all Filipinos reaching a hundred years are entitled to receive a centenarian cash gift. Thus, the Department of Social Welfare and Development (DSWD) Field Office Caraga, through its Centenarian Program, handed over the cash gift to Jose Inso. As Lolo Jose holds the cash, teary-eyed, he can't help but ask, "Akoa ni tanan? Na, salamat ipalit ko ni'g bugas (Is this all mine? Well, thank you, I'll buy milled rice with this money)."
Sabina, who has been with Lolo Jose for a long time promised to buy nutritious food for him using the money that Lolo Jose received. "Pagkaon ang mas daghanon nakog palit labina nga kada taod2 sa isa ka adlaw mangayo gyud ni siya'g ma sima-sima (I will make sure that there will be enough food for him, especially that he frequently ask for food)," Sabina said.
The Centenarian cash gift is a reward given to Filipinos reaching the age of 100 years old as an expression of gratitude by the National Government for their contributions of shaping and in putting up the Filipino values and culture.