"Education is the key to success" a universal quote that everybody knows. For Marlon L. Peteros, having an optimistic attitude is one of the factors that will help a person in achieving the things they want in life. Hence, qualities like perseverance, hard work, patience and the likes will come along.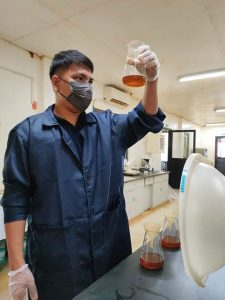 Marlon is currently working as a laboratory analyst in Nickel Asia Corporation, a mining company based in Cagdianao, Province of Dinagat Islands. He started working as a job order last November 4, 2020 and after six months, he became a regular employee with all the compensation and benefit package and other privileges. This is not his first job since he worked previously as a job order at the Department of Public Works and Highways from March 2020 until October 2020.
Looking back at his life, Marlon being the fifth out of the seven siblings, admitted that they had a difficult life due to financial constraints since both of his parents had no regular jobs. His father was a farmer while his mother was a housewife. When Marlon was in 5th Grade, his mother left their hometown to find a job. His mother stayed at Butuan City and supported them through washing clothes (labandera).
But despite of the difficulty that he and his family experienced, he continued to study from elementary until high school. He strived hard to finish his studies in order to uplift his family's condition especially the financial aspect. Being motivated and challenged by their current status, he studied hard and eventually graduated as salutatorian at Doña Helene National High School in 2015. According to him, the grants that they received from the Pantawid Pamilyang Pilipino Progeam (4Ps) helped them a lot financially. It aided for their daily expenses and mostly for school needs.
Since then, it was clear to him that he could not proceed to college due to financial incapacity but it never stopped him from pursuing his goal, so he applied for a scholarship program in order to be able to continue his studies.
He is grateful that he qualified as a scholar ng Bayan last 2015 during his first year. But a better opportunity came when he was in second year when there was a vacant slot for another scholarship program, the Expanded-Students Grants in Aid Program for Poverty Alleviation (ESGP-PA). He opted to choose the ESGP-PA since the ESGP-PA was a full-time scholarship.
He valued the chance to be an ESGP-PA scholar so during his studies, he focused only on academic activities and less on extra-curricular activities for it could certainly affect the scholarship and he did not want to waste the opportunity at hand. Thus, he surrounded himself with his co-students taking up Bachelor of Science in Chemistry at the Caraga State University and they had this objective to help every student in their department and university to be able to finish and graduate from the course.
In 2019, he gained a degree in Bachelor of Science in Chemistry and passed the Chemical Technician Licensure Examination that same year.  After passing and securing his license, he then decided to immediately apply for any job in order to help his family financially. In fact, he is the one who supported his younger siblings, one who is enrolled at Don Jose Ecleo Memorial Foundation College of Science and Technology (DJEMFCST), who was in 1st year taking up BSBA Major in Financial Management.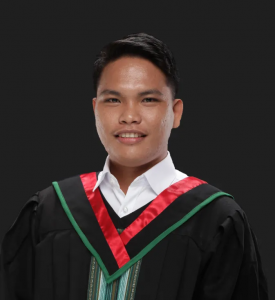 One thing that Marlon is proud of is that he never wasted any opportunity. He said that opportunity comes to a lot of people, but there are some who do not grab them – some even waste them. He would like to remind everyone that regret always comes late, especially for those who waste presiouc time and opportunities.
Marlon is forever thankful to the Pantawid Pamilyang Pilipino Program (4Ps) of the Department of Social Welfare and Development for all the opportunities it has given him. He hopes that more people will also achieve their dreams through the program – the same success he has through the program.#