"I am incredibly grateful" – these are the words of Julicris M. Ojel, a Pantawid Pamilyang Pilipino Program (4Ps) beneficiary and a recipient of the Expanded Students' Grants-in-Aid Program for Poverty Alleviation (ESGP-PA) when asked about her experience of being an ESGP-PA scholar.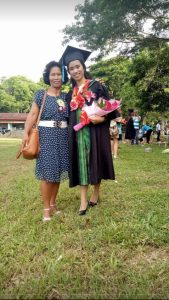 Throughout her journey of being an ESGP-PA scholar, Julicris encountered a lot of challenges especially during the first month of her stay in the university because of financial problems.  Prior to the scholarship, she was already enrolled in Surigao State College of Technology (SSCT) Magpayang Campus but did not push through because of financial struggles when her father got sick.
She just finished the first semester and went to Cebu City to apply for a job as a baby sitter in order to save money so that she can continue her studies and also help her family for the medication of her father. While in Cebu, she received a call from her mother informing her that she is chosen as one of the scholars of ESGP-PA. She was so thrilled upon hearing the news and hurriedly went back home to try the opportunity given to her. Fortunately, she passed the entrance exam in Caraga State University and took BSED-Biology course.
She recalled that during the time when she was about to leave to study, her parents gave her an allowance worth 500 pesos allotted for one week because they thought that they will already receive the allowance from the scholarship the following week, but it took many weeks before it was given to them. She tried to fit the budget of her allowance for two weeks that it came to a point that she already skipped eating breakfast and dinner just to save money. She was about to give up that time because she was not able cope with the expenses due to financial constraint since her parents was not able to send her money because they are also struggling financially.  That is why she asked her mother to just borrow some money that is enough for her fare so that she can go home instead because she was thinking not to continue her studies again because of their financial situation. Thankfully her aunt called her and sent her monetary support that encouraged her to be more optimistic that she will achieve her goals.
The ESGP-PA scholarship really played a great role in achieving her dreams. She was able to graduate in college and got her license as Professional Teacher in 2018. The following year, she became a volunteer teacher in Paco National High School until November 2021. She temporarily stopped teaching for financial reasons and currently seeking a job with good salary since the honorarium she received from being a volunteer teacher is not enough to sustain the needs of her family. She is hoping to apply again at the Department of Education this year and praying that she will finally have an item as a full pledge teacher.
Looking back, Julicris remembers herself as a determined lady with hopes and dreams of graduating college and have a good job in order to provide her family a good quality of life. The ESGP-PA scholarship made her dreams come true and for that she is forever thankful.
"I am very grateful for the ESGP-PA who made me who I am today. Maraming salamat po. Sana marami pa kayong kabataan na matulungan para makamit ang mga pangarap nila sa buhay (I am very grateful for the ESGP-PA who made me who I am today. Thank you very much. I hope you will be able to help more youth to help them achieve their dreams in life)," she said.#