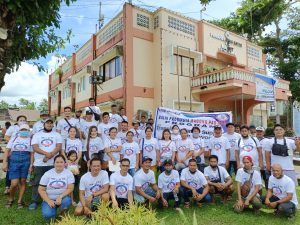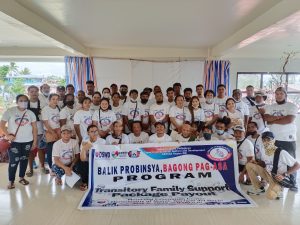 Despite hardships they experienced living in metro cities during the height of pandemic, individuals who decided to return and resettle in their hometown in Mainit, Surigao del Norte now have reasons to smile as the government handed family support package and livelihood assistance amounting to Php4,061,750 for them to start a new life in the province.
The Department of Social Welfare and Development (DSWD), through the Balik Probinsya Bagong Pag-asa (BP2) Program, handed recently the transitory family support package amounting to Php1,711,750 to 47 families in Mainit town.
Each of the family received transitory family support package ranging from Php25,000 to Php40,000, depending on the number of family members and assessment of a social worker. Transitory family support package is a provision that will cover the food and non-food items needed while the family is in the transition phase.
The Department will also turnover the Livelihood Settlement Grant amounting to Php2,350,000 to the same 47 families as soon as they are done crafting project proposals on what livelihood they would venture.
"Kining assistance gihatag sa inyo para magamit sa inyong panginahanglan sa matag adlaw while nagpaabot mo sa among ihatag nga panginabuhian. Para sa inyong panginabuhian is fix gyud nga Php50,000 per family (This assistance is for your daily expenses awaiting the livelihood assistance that we will be handing. Each family will receive Php50,000 livelihood assistance)," said Bennette Dave C. Calo, the regional program coordinator of KALAHI- CIDSS program.
"Ang kini nga programa is para sa inyo nga nanguli nga gusto mo resettle dinhia. Naghinaut ang Office nga dili na mo mobalik kung asa mo gikan (This program is for you who wants to resettle here. DSWD hopes that you won't go back to the cities where you previously lived)," Calo said.
"Ang hangyo namo nga kining kwarta nga gibubo, gihatag nga assistance sa inyoha is inyong igasto sa angay nga dapat dapatan (We ask that you will spend the cash assistance wisely)," he added.
KALAHI-CIDSS or Kapit-Bisig Laban sa Kahirapan Comprehensive and Integrated Delivery of Social Services is the one that implements the BP2 program in the region.
Mainit Municipal Mayor Crisanta O. Mondano expressed her gratitude to the DSWD workers who work tirelessly for the BP2 beneficiaries.
"We are grateful to workers of DSWD nga nagtrabaho gajud sa tinuoray. Pasalamatan nato ang mga tao nga naghago apil ang goberno nga nagkilaya sa atong mga panginahanglan (We are grateful to the workers of DSWD who are true to their job. Let us thank the people who work tirelessly and to the government that recognizes our needs)," Mayor Mondano said.
Mary Jane Flora, 30, one of the BP2 beneficiaries, said she is thankful for the cash assistance and promised to use it in the right way.
"Nalipay gyud mi nga nakadawat mi sa Balik Probinsya. Pasalamt mi'g dako kay dako'g tabang gajud ni para sa amo; ug dili jud ni namo sayangon (We are so happy that we're able to avail ourselves of the Balik Probinsya. We are very much thankful for the assistance we get. Such won't be put to waste," Flora said.
The BP2 was institutionalized by virtue of Executive Order 114 series of 2020, anchored on a vision of achieving a balanced regional development and equitable distribution of wealth, resources, and opportunities through policies and programs that boost countryside development and inclusive growth, provide adequate social services, and promote full employment, industrialization and an improved quality of life in rural areas.
BP2 is also a strategy of the government that seeks to decongest the National Capital Region (NCR) and highly urbanized areas by allowing residents from these areas to go back to their provincial residence to start a new life.
The program is part of the long-term holistic program under the Ambisyon Natin 2040, envisioning a society wherein Filipinos live in a prosperous, predominantly middle-class society where no one is poor.