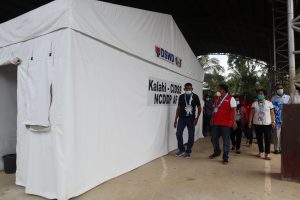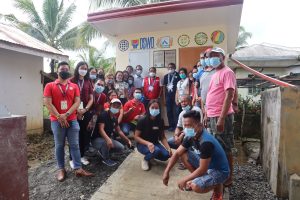 The Department of Social Welfare and Development (DSWD) handed recently an isolation facility to Barangay Villa Paz in La Paz town, Agusan del Sur province, that would benefit 529 households or 2,310 individuals.
The isolation facility, which is a subproject of DSWD's KALAHI-CIDSS Additional Financing, is a collapsible tent with 12 rooms that will be used to quarantine suspected COVID-19 residents.
Each room is complete with folding bed, sleeping kit, chair, table, and electric fan. The facility also has two restrooms and a handwash area.
The implementation of subproject, which cost Php758,353, started on February 17 and was completed on March 17, 2022.
"Dili ta magdahum nga naay mabutang diha sa isolation facility. However, andam na ta kung mosaka na pud ang cases sa COVID. Gihagit ko kamo pag atiman sa maong proyekto," DSWD Caraga Assistant Regional Director for Operations Jean Paul S. Parajes said during the turnover ceremony.
"Base sa atong record, dili lang kining isolation facility, aduna nay two classrooms, solar dryer, and solar lights nga na-implemtar diri sa Barangay Villa Paz pinaagi sa KALAHI-CIDSS nga programa," Parajes said.
Villa Paz residents were grateful for the project and the chance to be part of DSWD KALAHI-CIDSS.
"Nalipay kaayo ko nga nagboluntaryo sa KALAHI. Nalipay kaayo ko nga kami apil sa pagplano sa buluhaton, pag assist sa pagimplemntar, sa pagedukar sa community, ug pag himamat uban sa akonjg mga kauban nga volunteers sa DSWD KALAHI," said Janeth Emong, chairperson of the Barangay Development Council Technical Worker Group.
"Gitugot nako akong kaugalingon nga mag boluntaryo kay tungod gusto sab ako maktabang arun sa paglambo sa among barangay hilabi kay tungod naa ang krisis sa COVID-19," Emong said.
On the other hand, Datu Andipayon Pendon Jr., who is the Indigenous People Mandatory Representative of CADT 117, said he is thankful to all the workers of DSWD who made all the community projects in La Paz possible.
KALAHI-CIDSS or Kapit-Bisig Laban sa Kahirapan – Comprehensive and Integrated Delivery of Social Services is one of the poverty alleviation programs of the government being implemented by DSWD.