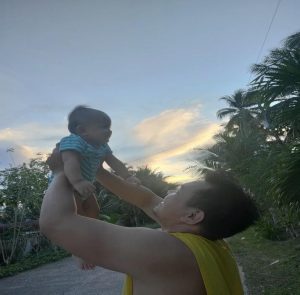 "I remember the time when I was not worried about anything. My life was plain and simple. I went to school, caught up with friends, and did things whenever I wanted to.  That was my life, until one day, everything changed when my father died."
Being the eldest of the twelve (12) siblings, life was harder for Jamil when the provider of the family passed away. In a snap, he was forced to be a taxi driver or a service crew by night, and a student by day.
His hardships were never put to waste when he passed the Social Worker's Licensure Examination in August 2019. He offered the feat to his "abe", his father, for the guidance.
In 2021, no amount of happiness surmounted his experience of having his own son, Zed Zeeshan Bantuas. He worked double shifts to have enough funds, from 9:00 AM to 5:00 PM and 9:00 PM to 6:00 AM, giving him only 4 hours of vacant time a day.
"It was very hard but I did not want to settle for less, I wanted the best for my son and the safety of her mother, I did it for almost a year, until I could not continue doing it anymore because my body eventually was close to giving up," Jamil recalled.
He searched for job vacancies, until he was hired at the Department of Social Welfare and Development (DSWD) Field Office Caraga. He was grateful for the opportunity, but with a heavy heart he was forced to leave his wife and son in Digos City to work as a Municipal Link for the Pantawid Pamilyang Pilipino Program (4Ps) assigned in Prosperidad, Agusan del Sur.
They stayed distant for a moment, but he had to accept the offer so he could give the financial support to his growing family. Finally, when he was able to save up, he got his family to transfer in Prosperidad.
"Being a father, a full-time worker, and a Master of Public Administration student is no joke. My time is very limited, but having my wife and Zed around is like having an elixir of energy," Jamil happily shared.
Now, Jamil has all the inspiration to work in full capacity, thanks to his inspiration, his family. Jamil now works diligently and serves as an inspiration to the Pantawid Pamilya beneficiaries in his assigned workplace. ###(Social Marketing Section/DSWD Field Office Caraga)###(Social Marketing Section/DSWD Field Office Caraga)