At a young age, Marichu learned lessons the hard way.
At 17, Marichu got pregnant and married her boyfriend Alvin Rey Simacon. Their early marriage brought them difficulties, as Alvin tried to make ends meet while working as a seasonal farm laborer and an on-call construction worker. Marichu on the other hand struggled being a mother and a student at the same time. Though it was a hard situation, it motivated her to finish her studies, not minding the criticisms of other people.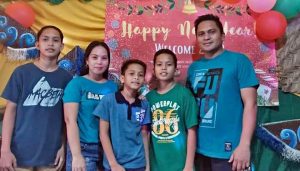 While she pursued her studies as a Sophomore student taking up Bachelor of Science in Secondary Education, things turned out rough – her son was hospitalized in Davao City because of chronic osteomyelitis – a bone infection that causes pain, so she needed to stop her schooling to attend to her son's medical needs. Thankfully, she was able to avail cash assistance through the Assistance to Individuals in Crisis Situation (AICS) from the Department of Social Welfare and Development amounting to PHP5,000. She also was given the privilege to have a No Balance Bill (NBB) through PhilHealth because she was a Pantawid Pamilyang Pilipino Program (4Ps) beneficiary.
At 25, she was selected to be a Parent Leader for the 4Ps. At first she was hesitant since she thought that she was incapable of handling members, especially those who were older than her. She thought she was inept to be a leader, thinking she did not possess the necessary traits and skills. But later on she learned that being a leader is not only showing willingness but also embracing the responsibilities and developing communication skills, and going the extra mile without expecting anything in return.
"Kung wala ko na parent leader lisod siguro sa akoa paglihok ug wa siguro ko kabalo nga nay ing-ani nga mga tabang na maduolan sa gobyerno (If I was not a Parent Leader, it would probably be hard for me to encounter different programs of the government that I could enjoy)," Marichu recalled.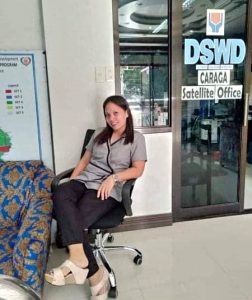 Despite the debacles in her journey, she was still motivated to continue her studies but shifted to Public Administration since she was not allowed by the standards of Education program to resume due to her absences. Being a student, a mother, a wife, and a parent leader for 4Ps grantees, Marichu did have a challenging situation. But she managed her time well, constantly working with her husband, especially in looking after their son during school days. She also sought the help of her fellow 4Ps assistant leaders in managing her co-beneficiaries – all these while spending her spare time, especially during the evening, studying to catch up with her school lessons.
During her practicum, she was assigned at the AICS – Provincial Office of Tandag City for six (6) months. As a front desk officer who facilitated documents of those in need for cash, medical, educational, burial, transportation, and food assistance, she was able to look back at the experience she had with the program. She knew pretty well how important the program was, especially for those who are facing crisis situations. This is why she made sure she was doing her job well.
Marichu finally finished her college degree in August 2020 – she was 33 years old when she completed this milestone in her life. She was proud of what she achieved, her family was equally proud as well. Six months after she graduated, she was employed as a Local Government Unit (LGU) Link in Bayabas rendering service at the 4Ps Municipal Operations Office (MOO). Her husband also got a more stable job as an inspector for a bus company. Indeed, little by little they were able to make progress with their economic status.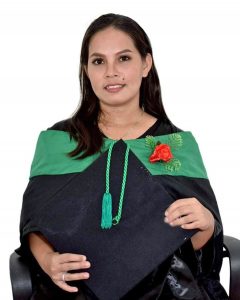 However, the pandemic did not spare the municipality of Bayabas from the adverse effects of COVID-19. It was a difficult time for everyone, especially the poor and vulnerable sectors. Hence, the local government of Bayabas, together with the MOO staff, organized the Pantawid Covid mula sa Pantawid-Kapatid – a bayanihan initiative for COVID-19 affected beneficiaries. With the help of every parent leader including Marichu, they instructed their group members to gather root crops, food items, rice, vegetables, sea food, and any in-kind donations they can give wholeheartedly.  With concerted efforts of other volunteers, they packed the items equally and joined the distribution. While at it, they also had an information drive, encouraging people to get vaccinated.
"Didto nako na-realize nga ang pagboluntaryo makausab sa panan-aw ug kinaiya sa tao. Na bisan 4Ps man ka o dili, pwede ka mahimo na ehemplo sa komunidad (I realized during that time that volunteerism can change the perception and attitude of people. That anyone, even 4Ps member, can become a role model in the community)," Marichu shared.
The heartwarming act resulted in forming the BaPaLea (Bayabas Parent Leaders) Association in March 2022. Marichu was elected as President of the association, another responsibility entrusted to her by her co-parent leaders. In addition, she is the current Purok secretary, a Secretary for the Magobawok Micro-Lending Sustainable Livelihood Program Association, and an active beneficiary of the Risk Resiliency Program- Climate Change Adaptation and Mitigation (RRP-CCAM) cash for work.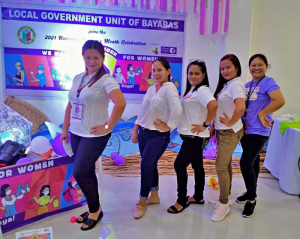 Out of the hundreds of parent leaders, she represented MOO Bayabas during the Pasigarbo 2021, and won as the champion for Modelong Parent Leader and was given a certificate, cash gift, and a token.
Looking back at the 16 fruitful years since she decided to get married, Marichu is grateful that even with the painful experiences in her journey, she was still able to succeed and achieve her dreams. She may not have finished the race to be an educator, but still she found that working in service for the people has given her life meaning.  Now, she is reaping the rewards of her hard work, and proved that indeed, it was her destiny to be a leader. ###(Social Marketing Section/DSWD Field Office Caraga)