A total of 24 Child Development Centers (CDC) underwent accreditation assessment activity by the Department of Social Welfare and Development (DSWD) Field Office Caraga on June 20-24, 2022 in Talacogon, Agusan del Sur.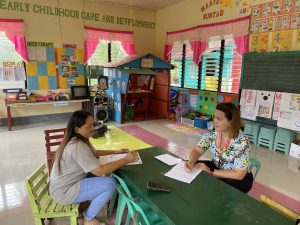 Of the said number, 14 are for renewal and 10 for new application. The accreditation is facilitated by the Standards Section which is responsible for regulating the quality of these programs for children through various centers operated by local government units, non-government organizations, national government agencies, and government-owned and controlled corporations.
As mandated by Republic Act No. 6972, every barangay should establish a day care center, instituting therein a total development and protection of children program, appropriating funds, and other purposes.
The accreditation assessment activity aims to provide an enhanced set of standards for the CDCs and Child Development Workers (CDWs) for a more efficient and effective delivery of the Early Childhood Care and Development (ECCD) Program administration as well as to protect and promote the best interest of children availing of the Day Care Service during the new normal.
Using the accreditation tool, the accreditee must meet the indicators for Early Childhood Education-Early Childhood Care and Development (ECE-ECCD) to ensure that the standards are being implemented by the LGUs.
Once the DCC is in compliance with the indicator categorized in AO 15 series of 2011, the field office will issue a Certificate of Accreditation and shall have a validity period of minimum of 3 years and a maximum of 5 years.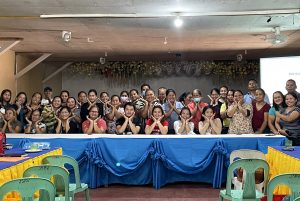 Prior to the conduct of interview, the team explained to the respondents the purpose of the accreditation, conducted an ocular inspection of the facilities and surrounding areas of the center, followed by an interview with the stakeholders. The team also reviewed pertinent documents as required in the assessment tool.
The team then conducted an exit conference and provided the findings and observations during the conduct of the accreditation. Present during the exit conference were the Local Social Welfare and Development Officers, Child Development workers, Barangay Captain and Kagawads, ECCD Focal Persons, and Sangguniang Bayan members.
With this, the Department encourages the Local Government Units (LGUs) to undergo accreditation to make the operation legal and ensure that the programs and services are compliant with the Department's set standards. Other than that, the accreditation is also the basis for recognitions and awards for the Seal of Good Local Governance (SGLG), Seal of Child Friendly Local Governance, and Best LGU for Day Care Service.###(Social Marketing Section/DSWD Field Office Caraga).