BUTUAN CITY- With an aim to increase the number of accredited Pre-Marriage Counsellors, the Department of Social Welfare and Development (DSWD) Field Office Caraga conducted the 3-day roll-out training on the Pre-Marriage Orientation and Counselling (PMOC) Manual on June 8-10, 2022 at Grand Palace Hotel, Butuan City.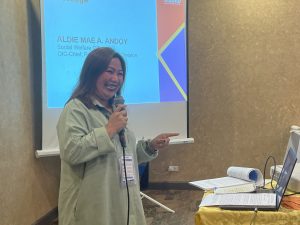 The training, which is spearheaded by the Standards Section, is attended by the Local Social Welfare and Development Officers, Local Population Officers, and members of the Local PMOC Team. The training focused on the part II of the manual which introduces the processes involved in counselling would-be-married couples, particularly those that are aged 18-25 years old as required under Article 16 of the Executive Order No. 209 or the 1987 Family Code of the Philippines.
During her opening message, OIC-Policy and Plans Division (PPD) Chief Aldie Mae A. Andoy emphasized the significance of having the said training as this is one of the requirements in applying for accreditation for pre-marriage counsellors.
 "This activity, which focuses on Module II, was developed and designed to serve as the counsellor's guide in conducting counselling to would-be-couples. It is hoped that it would help our LSWDOs and PMOC members to improve the conduct of PMC sessions resulting to deeper understanding of the realities of marriage,'' Andoy said.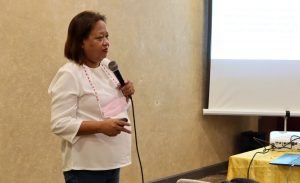 4 sessions were conducted, namely; Session 1: You and Your Spouse, Session 2: Understanding Individual Differences, Session 3: Importance of Communication in Marriage, and Session 4: Lifetime Commitments. It uses different methodologies such as plenary discussion, role playing, and return demonstration to ensure that the participants absorbed the lessons as well as enjoy the 3-day training. Participants were also required to accomplish the Marriage Expectation Inventory (MEI) form – a form that is used during the Pre-marriage orientation for would-be-couples to see about their views on marriage, for participants to comment on.
With the said training, the Department is expecting more LGUs to apply for accreditation for PMOC, as this will also improve the indicator under the Service Delivery Compliance and Competency Assessment (SDCCA) tool. The Standards Section, the regulatory arm of DSWD, will also continue to provide technical assistance to partner-stakeholders in terms of registration, licensing and accreditation of Social Welfare and Development Agencies (SWDAs) and service providers. ###(Social Marketing Section/DSWD Field Office Caraga).