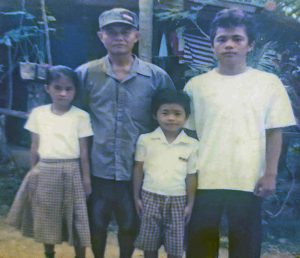 He never missed a school day.
It was 2009 when his relationship with his wife failed, leaving him three mouths to feed on his own. He promised his children that he will not find another partner to save them from any problems in the future. He looked after them both as a "haligi at ilaw ng tahanan" while juggling his work as a laborer. But even with the circumstances, he never failed to fetch his children after school.
Honorato Crausos, 58, is a solo parent from Barangay Patin-ay, Prosperidad, Agusan del Sur. Being the only male parent leader of the Pantawid Pamilyang Pilipino Program (4Ps) in Patin-ay, he does his best to actively participate in the activities of the program.
When the times went tough, Honarato asked for support from his mother, and was given a land where they could start a living. They started to plant falcata trees and after years and years of taking care of it, they sold it for the purpose of building a sturdier home.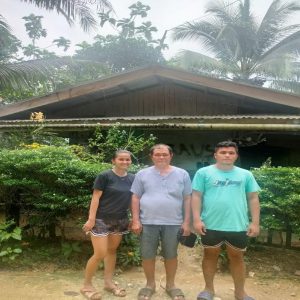 "Grabi akong kalipay nga makita akong mga anak nga kontento sa kinabuhi, bisan wala silay inahan (I am so happy to see my children contented in life, even without the presence of a mother)," he shared.
For a very long time being a single father, his children wholeheartedly accepted the reality, and they were very thankful, despite all the hardships being felt as a family.
Looking back, fighting alone to survive, not giving up, nor thinking about leaving his children behind, it was all worth it for Tatay Honorato, because no amount of hardships can equal the joys of being a father. ###(Social Marketing Section/DSWD Field Office Caraga)###(Social Marketing Section/DSWD Field Office Caraga)