DSWD Field Office Caraga is one with the DSWD community in celebrating the third year anniversary of Republic Act 11310 – "An Act Institutionalizing the Pantawid Pamilyang Pilipino Program (4Ps)."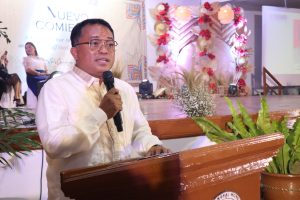 The celebration, spearheaded by the 4Ps Caraga Regional Program Management Office (RPMO) was dubbed as "Nuevo Comienzo" which means "new beginning." Since the onset of the COVID-19 pandemic, this is the first major face-to-face gathering of the workforce.
In his message, DSWD Assistant Regional Director for Operations (ARDO) Jean Paul S. Parajes, emphasized that DSWD Field Office Caraga was never silent even in challenging times.
"In every unfortunate circumstance, we are given the opportunity to learn and grow. Nuevo comienzo, new beginning, bagong simula. Sabi nga nila, papunta pa lang tayo sa exciting part. Padayon, 4Ps Caraga! (New start. As they say, we are still towards the exciting part)," ARDO Parajes said.
Highlighting the celebration, the Program Staff Excellence Awarding Ceremony was held wherein ARDO Parajes handed the plaques and certificates to the following awardees:
Best Social Welfare Assistant – HERBERT G. OCDENARIA (Tubajon, PDI)
Best Community Facilitator Assistant – MARY JANE B. GAVINO (Bunawan, ADS)
Best Administrative Assistant – ALFREDO GACULA (POO San Jose, PDI)
Best Municipal Roving Bookkeeper – CHARINA S. AZARES (POO SDN)
Best Provincial Monitoring and Evaluation Officer – IGMEDIO INTAS JR. (POO SDS)
Best Community Facilitator – ALLENE SALAZAR (Lingig, SDS)
Best City/Municipal Link – ARLENE T. SUAYBAGUIO (Tubod, SDN)
Best Beneficiary Data Officer – MARICEL E. GATILLO (POO SDN)
Best CVS Focal Person- MANDELYN M. TACULOD (POO ADN)
Best Cluster Grievance Officer – CRISTY DUROPAN (Cluster 2 SDS)
Best Provincial Grievance Officer – OTANER A. ARATEA (POO ADS)
Best Social Welfare Officer III – HAZEL C. PALASOL (POO ADN)
Best Provincial Link- Meiraflor D. Cabigon (POO ADS)
Best Municipality Operations Office – La Paz, Agusan del Sur
Best City Operations Office – Bayugan City, Agusan del Sur
Best Cluster Operations Office – Surigao del Norte Mainland
Best Provincial Operations Office – Agusan del Sur Operations Office
He was assisted by 4Ps Caraga Assistant Regional Program Coordinator Jehmymah L. Moscatiles, Sectoral Head Elsa A. Jamora, SLP RPC Renante Abendandio, and HRPPMS Administrative Officer Phil Roy Cahiles.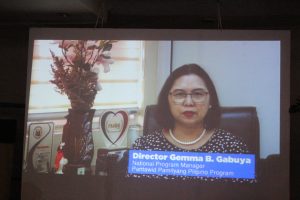 4Ps National Program Manager Gemma B. Gabuya also sent her felicitations through a congratulatory video message for the success of the activity.
"I have witnessed the passion of the personnel to ensure that grants are delivered on time, that families are provided with case management to help them overcome crisis, and the beneficiaries are linked to different programs and services to help them transition towards program exit," NPM Gabuya shared through an audio-visual presentation (AVP).
Moreover, to support and acknowledge the efforts of the field staff, the RPMO in coordination with the POOs highlighted their best initiatives and showcased it creatively through a dance presentation.
The Provincial Operations Office of Agusan del Sur bagged the 1st prize for the Pantawid Dance Challenge. The prizes for the contest were as follows: 1st Prize- Php10,000 (ADS), 2nd Prize-Php7,000 (ADN), 3rd Prize-Php5,000 (SDN), and Consolation Prizes -Php3,000 (SDS and PDI).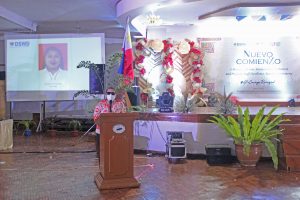 Field Office Caraga Division Chiefs also sent their well wishes for the program through video messages. 4Ps Division Chief/Regional Program Coordinator Crislea D. Celeste, who recently had her leave of absence for health matters, graced the event, and delivered the closing message.
"I hope that we take the first step towards the new beginning. The new beginning with a new perspective, that we all have the capabilities to do the job set by DSWD and 4Ps, and we have the confidence that magkasayop man ta in the way, kaya natong angkunon ug kaya natong i-correct ang atong sayop (even when we commit mistakes, we recognize our faults and correct them)," DC Celeste reminded in her closing message.
The activity carried the hashtag #4PsCaragaRevivified signifying that whatever challenges come the program's way, a new vigor shall rise. ###(Social Marketing Section/DSWD Field Office Caraga)