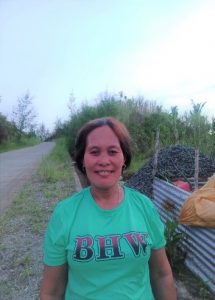 A true display of leadership is demonstrated in the family.
Being a mother of five children, the 48-year old Arlyn Torrion plays an inherent role of leading her family towards moral, physical and spiritual development. These are displayed in her strong bond and relationship towards her family, to the church, and to the community, including the Pantawid Pamilyang Pilipino Program (4Ps) beneficiaries in Cagdianao, Dinagat Islands.
"Ate Arlyn has been an active Parent Leader for 14 years already. Her long years of service as Parent Leader is an obvious manifestation that her members and the Program trusted her leadership and commitment," Bryan Macasucol, municipal link assigned in Cagdianao, shared.
Despite having no college degree, Arlyn and her husband Ireno were unhindered to strive hard for their children's welfare.
She works as a Barangay Health Worker (BHW), Barangay Treasurer, and Local Farmer Technician earning an average income of Php10,300 a month. Her honorarium augments the financial resources of her husband who works as Barangay Tanod receiving two thousand pesos Php2,000 honorarium per month.
Her responsibilities for her family did not restrict her to handle community duties. She is currently entrusted with various positions in six different community organizations namely:
Santo Niño Mountain View Multi-Purpose Cooperative as Secretary for fifteen (15) years;
Santo Niño Zinnia Women's Association as President for twelve (12) years;
Santo Niño Farmer's, Lobster, Fisherfolks Association as Project Manager for six (6) years;
Sustainable Livelihood Program (SLP)-Maabtikon SKA as President for six (6) years;
Barangay Local Government Unit (BLGU) Treasurer for 3 years; and
Member of Barangay Health Worker Association for twenty-two (22) years.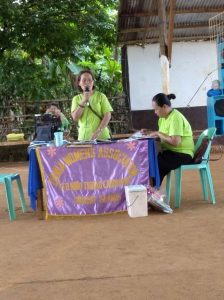 These are just indications that the Program did not become a hindrance for Arlyn to continue engagement with the community. In fact, it even gave her the capacity and courage to participate in civic activities.
During the height of the pandemic, there were changes in the implementation of Family Development Session (FDS). Arlyn contributed significantly in the efficient undertaking of eFDS through Basa-Pasa delivery mode. She was entrusted to receive from the Pantawid staff the attendance sheets and eFDS modules in their area then responsibly distributed the documents to other groups.
She checked submitted journals and the compliance status of other beneficiaries aside from her group members. These simple acts and initiatives of Arlyn helped maintain the compliance of other fellow beneficiaries which eventually resulted to a great impact in the compliance of the other households.
"An amo grupo nibalhin gikan sa eFDS mode ngadto sa ginagmay na panagtapok, pagkahuman sa pinsala ni bagyong Odette. Ani nga panahon, nahatagan ako nan opurtunidad na makahatag nan discussion sa amo grupo (Our group shifted from eFDS mode to Small Group Neighborhood Sessions (SGNS) after the onslaught of super typhoon Odette. This time, I had the opportunity to facilitate the discussion in our group)," Arlyn shared.
Her active involvement resulted into her group consistently meeting the deadlines set by the Program, aiming for better compliance to the conditions of 4Ps.
For many years of committing herself to duties, she was able to receive different recognitions from various organizations, such as:
3rd place for being Outstanding Record Keeper given by LGU-Cagdianao, PDI;
3rd place during the Search for Outstanding Women Association 2014 given by the Municipal Social Welfare and Development Office (MSWDO);
Outstanding Women Association (Zinnia Women's Association) of 2013 given by MSWDO;
Outstanding Women Association (Zinnia Women's Association) of 2018 given by MSWDO;
Outstanding Self Employment Assistance Kaunlaran Association given in 2013 by MSWDO for Maabtikon SKA; and
Certificate of Achievement for Effective Management and Successful Implementation of DILEEP-DILP Kabuhayan Lobster Production Project given in 2019 by Department of Labor and Employment.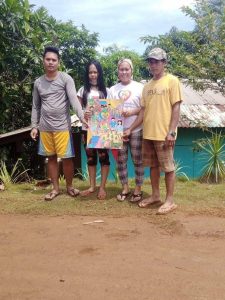 During the COVID-19 outbreak, she was involved in monitoring the health conditions of Persons Under Monitoring (PUM) in the Barangay Care and Containment Center (BCCC). Furthermore, together with other barangay workers, she was assigned in the community check-point ensuring that all individuals going in and out in the area presented documents and did not exhibit Covid-like symptoms.
When TS Odette was wrecking the island, Mrs. Arlyn was present in the evacuation center, facilitating evacuees and collecting essential data for reporting. Afterwards, she also engaged during bayanihan or community clearing operation to remove debris and uprooted trees along the road.
Indeed, Arlyn's fourteen years of leadership experience as Parent Leader in the Program capacitated her to become a more effective leader and it opened various opportunities in their community. People recognize her capacity and ability to lead therefore she is trusted with positions in different community organizations for many long years. ###(Social Marketing Section/DSWD Field Office Caraga)###(Social Marketing Section/DSWD Field Office Caraga)