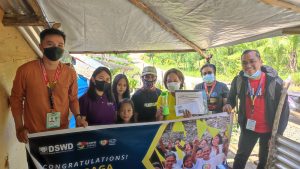 To recognize the voluntary efforts of the Pantawid Pamilyang Pilipino Program (4Ps) parent leaders, DSWD Field Office Caraga through the 4Ps Regional Program Management Office (RPMO) Caraga, awarded the five (5) selected Parent Leaders (PL) in a mobile setting.
The recognition highlights the program milestones emphasized through the successes of the program's implementation. It aims to identify the outstanding leadership and exemplary performance of volunteerism of the parent leaders in support to the Program implementation of the Republic Act 11310 or 4Ps Law.
Considering the number of groups/clusters each City/Municipal Link staff serves, the selection of the best PL was administered by the staff based on his/her professional judgement, along with the pre-set criteria, such as the innovative practices, community involvements, and influence in the implementation of development programs.
Celia Mantua, PL from Dapa, Siargao Islands, turned emotional after receiving the token, certificate, and cash incentive. She said the incentive was timely for her son's board examination in Cagayan de Oro this month.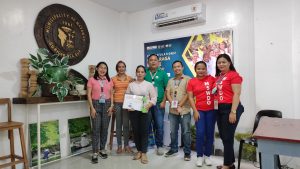 Rubelyn Caparo, PL from Butuan City, was awarded during the Regional Technical Training Session of 4Ps Caraga. She received the award from OIC-Assistant Regional Director for Operations (ARDO) Jean Paul S. Parajes, and thanked the Field Office for the opportunity.
Caparo mentioned that she never expected that her positive examples as a PL would bring her recognition, for it was her joy to serve her co-beneficiaries for 10 years.
As indicated in the RA 11310 implementing rules and regulations (IRR) Section 24, the selection of the parent leaders shall be done by the beneficiaries, based on the criteria set by the Department of Social Welfare and Development. The PL will then serve as community leaders for a prescribed term of service and may assist DSWD in the case management of qualified household-beneficiaries.
The mobile awarding was held in the various provinces in the region which ran from July 4-7, 2022, with the coordination between the 4Ps Provincial Operations Offices (POO) and Social Marketing Section of Field Office Caraga. ###(Social Marketing Section/DSWD Field Office Caraga)###(Social Marketing Section/DSWD Field Office Caraga)