To achieve a smooth monitoring on the compliance of the Pantawid Pamilyang Pilipino Program (4Ps) beneficiaries in the Province of Dinagat Islands (PDI), DSWD Field Office Caraga conducted a facility visit and composite monitoring in the municipalities of Basilisa, Dinagat, and San Jose last July 12-14, 2022.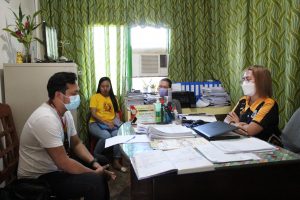 Through the 4Ps Caraga institutional partnership and development officers (IPDOs), the monitoring produced positive feedbacks from the 4Ps coordinators, both from school facilities and health centers.
Ms. Rosa M. Agocoy, school head of Don Ruben E. Ecleo Sr. Memorial National High School (DREESMNHS), acknowledged the efforts of the Program in alleviating the poverty situation in Dinagat Islands.
"Nakita namo nga na-improve ang socialization sa mga 4Ps. Na-enhance pud ang ilang knowledge labi na sa pagtambong sa Family Development Sessions (FDS) na bisan wala sila naka-graduate, matudloan sila og mga panultihon nga maka-encourage sa ilaha, gana gayud siya na ipadayon (We have seen the improvements on how they socialize. Their knowledge has been enhanced through attending FDS, that even though they did not finish school, they have been motivated through encouraging words – it is really good to continue)," Agocoy shared.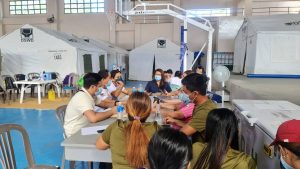 DREESMNHS has also done some innovations, they have created a database for 4Ps learners in order to efficiently track the transition of the grade levels. The 4Ps coordinators are the ones in-charge of the system updating and monitoring of the 4Ps children beneficiaries.
With the additional provisions in the Republic Act 11310, the monitoring of school and health facilities was given priority as it is imperative in the social development of the beneficiaries.
Kristina Lou G. Odtojan, nurse assigned in White Beach Health Station in the municipality of Dinagat, also emphasized that the health services-seeking behavior of the residents changed when the Program was introduced to the beneficiaries, as an increase in the facility visits and check-ups was observed.
With the recent compliance monitoring, the visit yielded good results particularly in building the partnership between the people handling the school facilities and health centers, and those of the staff from the program. This will ensure that the beneficiaries are on their way towards self-development.###(Social Marketing Section/DSWD Field Office Caraga)###(Social Marketing Section/DSWD Field Office Caraga)