As part of furthering the preparedness and safety in times of disaster, in relation to the National Disaster Resilience Month celebration for the month of July, the Department of Social Welfare and Development (DSWD) Field Office Caraga conducted a fire and exit drill in coordination with the Bureau of Fire Protection (BFP) Butuan on Juy 8, 2022.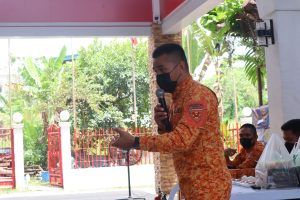 The activity aims to provide an opportunity for employees to assess their knowledge of the Fire Evacuation Plan, as well as their ability to evacuate as quickly and safely as possible, not just from the office premises, but in any setting.
Fire Officer III Bernel Dahunan underscored the significance of understanding the basic procedures of fire prevention for safety including the proper method of calling for aid.
Dahunan also shared that the common cause of fire is the LGP explosion whence he emphasized the importance of keeping calm, in situations where LPG leaks and accidents do happen. "LPG explosion is not coequal with the fatality brought by an explosion of a hand grenade. It is important be educated for you to be able to demonstrate the proper ways of handling the situation," Dahunan said.
Fire Officer Dahunan shared to the Field Office workers the proficient ways of handling emergency situations during fire incidents. FO's employees' then proceeded in demonstrating their learnings in the proper use fire extinguishers and the proper ways of turning off flaming LPG during a drill.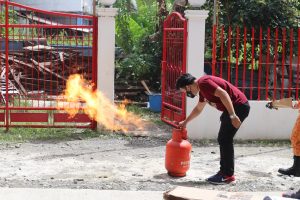 DSWD Field Office Caraga will have an extensive fire and exit drill in August, which will determine the Field Office's level of preparedness in handling fire incidents and emergency situations.