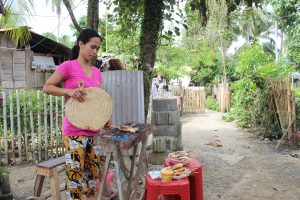 It was a hot and sunny day and a woman finds comfort under the shade of trees in front of her house. Her children played around while she was busy fanning, not to cool herself, but to grill evenly the bananas she will sell to her customers.
There were no sounds from busy streets and traffic, only the sound of chirping birds and music from a neighbor's radio that filled the air on that lazy Sunday noon. This is the life of Pauline Jill Algarbe now in her hometown in Barangay Comagascas, Cabadbaran City in Agusan del Norte province – a far cry from her life in the nation's capital several years ago.
For more than a decade of struggling to live day by day amidst the hustle and bustle of the city, she's now back in her hometown together with her kids.
"Di nako mobalik sa Metro Manila (I won't return to Metro Manila)," Pauline said, adding that life there is harder than she thought. But in 2007, just after she graduated in high school when she was young and full of dreams, this was not the case. With a bag full of dreams, she left for Cebu to find a job.
She dreamt of having a house of her own.
It was in Lapu-Lapu City in Cebu province she found a job…and love. There she met the man, who worked as a security guard on the same building she was working, and the would-be father of her four daughters.
They married in 2008 and moved to Metro Manila in the same year. Pauline didn't disclose the name of her husband, because after a decade the same person would bring so much pain and would change her life forever.
After a decade, they bear three daughters – Hazel Joy who is now 13; Shella Mae, 10; and Allyza, 9. There, in the bustling Tomas Morato in Quezon City, they lived and worked hard to make ends meet for their children.
"Naninda ko sa gawas sa building kung asa nag-trabaho akong bana isip security guard," Pauline said, adding that though it was hard, it was a bit better than staying in province with no livelihood.
"Mahal kaayo ang renta sa among gipuy-an. Naa pay tubig ug kuryente ug uban pang gastohanan. Gipa-igo ra jud namo among kita," she said.
It was in 2017 that the couple split, but made amends two years later. That time they had Princess Ara added to their children. Though they tried everything they can to make their relationship work and family intact, they just couldn't hold it anymore. So they both finally parted ways in 2020, during the height of the COVID-19 pandemic.
Life for Pauline and her four daughters even gets much more difficult during the pandemic. Lockdowns are everywhere and she couldn't sell in the streets anymore. That was her breaking point — she decided to go back to Cabadbaran City; with the help of her parents who sent cash to pay for their fare.
After three days aboard a ship, Pauline and her kids reached her hometown on September 20, 2020. After being quarantined for 14 days, they temporarily lived in her parents' house.
"Wala jud ko nagduha-duha nga mo-uli," Pauline said.
Her return was bittersweet and the pandemic may be a blessing in disguise. Her boyfriend in high school, Reynaldo Barcelona, arrived in her life. Both lived in together with Reynaldo's 10-year-old daughter Rea Mae. Reynaldo works as a laborer.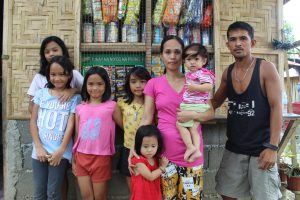 In 2021, two more blessings arrived — the birth of Perlyn Rexy and the one thing she didn't expect: P100,000 assistance from the national government's Balik-Probinsya Bagong Pag-asa Program.
Such aid really gave hope to Pauline that they would really now settle in the province.
The BP2 is implemented by the Department of Social Welfare and Development's (DSWD) Kapit-Bisig Laban sa Kahirapan – Comprehensive and Integrated Delivery of Social Services (KALAHI-CIDSS). The said program is a strategy of the government that seeks to decongest the National Capital Region (NCR) and highly urbanized areas by allowing residents from these areas to go back to their provincial residence to start a new life.
The BP2 was institutionalized by virtue of Executive Order 114 series of 2020, anchored on a vision of achieving a balanced regional development and equitable distribution of wealth, resources, and opportunities through policies and programs that boost countryside development and inclusive growth, provide adequate social services and promote full employment, industrialization and improved quality of life in rural areas.
Pauline received Php50,000 transitory family support package and another Php50,000 as Livelihood Settlement Grant. She decided to have a sari-sari store in her house.
Pauline used the assistance wisely. Now she has sari-sari store that would be the source of income for the family. She cook and sold banana to increase their income.
At present, Pauline's dream to have a house of her own came true. Though it was not that big, it was her dream to have one since 2007.
Moreover, Pauline graduated from Alternative Learning System last August 14, 2022, giving her more reasons not to return to Metro Manila because she's now HOME.