Php200, 000.00 cash in total was released from Department of Social Welfare and Development (DSWD) Field Office Caraga through the Centenarian Program to two (2) centenarians of Agusan del Sur, one (1) from Veruela and one (1) from Bunawan, Wednesday, September 14, 2022.
JULIANA OF VERUELA
Juliana B. Ruales, the centenarian from Brgy. Sta. Emilia, Veruela, Agusan del Sur joined our Creator last October of 2021 at the age of 103.
According to Republic Act 10868 also known as the Centenarians Act of 2016, the centenarian may be given a posthumous stipend through their nearest surviving relative that could have also been their caregiver granting that they were able to file their documents before their death and to prove that they turned 100 before they were deceased.
"Tungod sa iyang pag sige ug uma, ug among pag-amuma maong nilungtad ang iyang kinabuhi (She lived that long because she was active in farming and because we took good care of her)," Ricardo Ruales, the eldest son of Nanay Juliana, shared.
"Dako kaayo ni nga tabang, kani inyong pag tabang sa amo nga mga kabos (This is such a big help, this grant that you have given to the poor)," Ricardo added referring to the stipend from DSWD.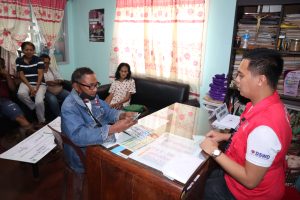 Before the talks of sharing the money amongst the three children of Nanay Juliana, Ricardo promised to prioritize the beautification of her tombstone and ensure a proper memorial for her first death anniversary.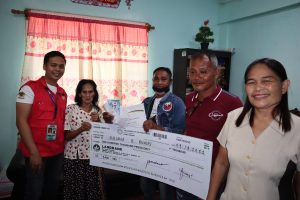 Municipal Social Welfare and Development (MSWD) Officer Designate Angelina Briones alongside Brgy. Captain of Sta. Emilia Hon. Rico D. Paradillo and Brgy. Secretary Ms. Eleonor F. Canoy joined DSWD Field Office Caraga Centenarian Program Project Development Officer II Joebert I. Tapales in awarding the family with the certificate and cash.
DAYLINDA OF BUNAWAN
"Salamat sa inyong gibuhat [para] sa ako nga kaayohan (Thank you for what you are doing for my welfare)," Lola Daylinda Epal, the Centenarian from Bunawan said after being awarded with Php100, 000.00.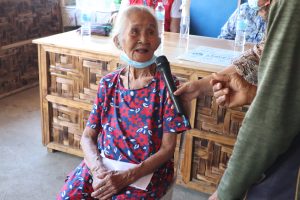 Ruben Epal, the eldest son of Lola Daylinda, humbly expressed his gratitude to everyone who helped his mother attain the grant from the agency.
"Kamong tanan akong gipasalamatan sa inyong pagpaningkamot nga ni-abot gyud ang hinabang para sa akong inahan (I thank all of you for your efforts so that my mother could receive this assistance)," Ruben said.
The stipend was awarded by DSWD Field Office Caraga Centenarian Program Project Development Officer II Joebert Tapales together with Bunawan Municipal Mayor Hon. Sylvia B. Elorde and MSWD Officer of Bunawan Ms. Susan S. Morala.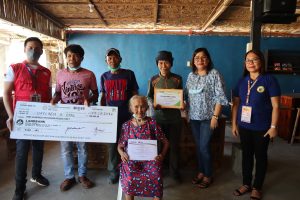 When asked about what they will do with the money, Ruben said that they will open a savings account in the bank for Lola Daylinda and make sure her needs are met for Lola's comfort.
THE PROGRAM
The Centenarian Act through DSWD's Centenarian Program not only aims to honor the lives of the centenarians but to also make sure it helps them live a comfortable life, especially at that age. If not, like in the case of Nanay Juliana, it is to make sure that the ones who have been left behind will be well-taken care of.
As the third quarter of the calendar year, 2022 approaches its end, 36 centenarians from the different municipalities and cities have already received their gift and certificate of appreciation for their century's worth of contribution to society.