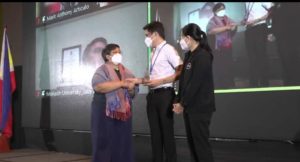 The Office of the Presidential Adviser on Peace, Reconciliation and Unity (OPAPRU) hailed the DSWD Field Office Caraga's research paper on the Community-Driven Development (CDD) approach in the discussion on peace and development in the context of the Indigenous Peoples communities during the 2nd Peace Research Conference Chardonnay by Astoria Event Center, Pasig City, this month.
KALAHI-CIDSS Caraga Project Evaluation Officer III Ace Kristoffer E. Labadan's research paper entitled, "The Line of Fit between the Envisioned Development of the PAMANA IP-CDD Program and the Indigenous Peoples," was named "Breakthrough Research of the Conference."
The paper informed and underscored the CDD approach in the discussion on peace and development in the context of the IP communities, particularly in the aspect of Women, Peace and Security (WPS) which was the theme of the said conference: "Ending Conflicts: Women's Role in Building and Sustaining Peace."
Certain supplementary information and relevant policy recommendations were also provided by the paper relative to the said agenda.
Of the 11 researches and think pieces, Labadan's paper garnered the said commendation.
KALAHI-CIDSS, otherwise known as the Kapit-Bisig Laban sa Kahirapan-Comprehensive and Integrated Delivery of Social Services, is one of the poverty alleviation programs of the national government being implemented by the Department of Social Welfare and Development (DSWD). It uses the CDD approach, a globally recognized strategy for achieving service delivery, poverty reduction, and good governance outcomes.
Labadan said the success of the paper was made possible due to the relevant inputs and support of DSWD regional management, the Regional R&E Technical Working Group, and the KALAHI-CIDSS Regional Program Management Office.
The said conference focused on various researches focusing on the Philippine Women, Peace and Security Agenda and the vital role of women in conflict resolution and transformation. The research outputs will serve as supplementary to the sunset review of the 3rd generation and Security NAPWPS and additional recommendations on the crafting of the 4th generation National Action Plan on Women, Peace and Security (NAPWPS) this year.
The Annual OPAPRU Peace Research Conference, which started in 2021, was organized to broaden the constituency for peace and serve as a platform for knowledge co-creation and evidence-based conversation on peacebuilding, conflict, and security concerns. Through the Conference, OPAPRU encourages academics, civil society members, national and local governments to conduct more peacebuilding-related researches that will inform the Government's peace policies and programs.
The Peace Research Conference is also seen as an opportunity for the Agency to engage with other academics and researchers who can help in attaining the vision of a just and lasting peace for the nation and for all Filipinos; this will help in advancing knowledge on peace and elevating national conversations on peace work, peacebuilding, and peace and security.