It is not every day that people get to witness someone turning 98 but it is a bigger surprise when a family discovers that their mother is two (2) years older than she already is.
Department of Social Welfare and Development (DSWD) Field Office Caraga through the Centenarian Program encourages citizens who are caring for their elderly family members to file requirements in their Municipal or City Social Welfare Development Offices two (2) years before they turn 100 for a speedy and thorough validation of documents by the agency's social workers.
In compliance with DSWD's request, the Jamero family from Mainit, Surigao del Norte submitted the requirements needed for their matriarch, Lola Paula L. Jamero, to qualify for the aforementioned program as she turned 98 last August 10, 2022.
To further validate requirements, they were required to ask for her original birth certificate which brought a big surprise when it arrived from Leyte – she was not born in 1924 but in 1921. What a twist of fate! From what turns out to be 98, Lola Paula is already 101.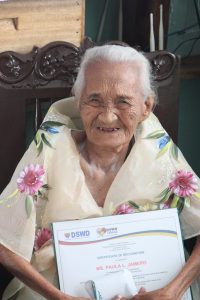 Amused, Lola Paula's son and caregiver, Vergilio Jamero laughingly said, "Wala gyud mi ka celebrate sa iyang ika-100 na birthday, diritso ug 101 (We weren't able to celebrate her 100th birthday, we skipped to 101)."
With the peculiar situation and valid documents, DSWD Field Office Caraga in accordance to Republic Act 10868 also known as the Centenarians Act of 2016, awarded Lola Paula Php100,000.00 to honor her century's worth of contribution to the community, on September 6, 2022. The Local Government Unit of Mainit also extended their felicitations by giving Php20,000.00.
Present during the awarding were Protective Services Division Chief Jessie Catherine B. Aranas, Municipal Mayor of Mainit Hon. Crisanta O. Mondano, MSWDO Representative Cherry Mantisa, Senior Citizen Focal Person Melody Gubantes, Barangay Captain of Matin-ao Alberto P. Odtojan, OSCA Head Angelita Buniel, and Project Development Officer II Focal of the Centenarian Program of DSWD Field Office Caraga Joebert Tapales.
Aranas, after explaining the rationale of the awarding, emphasized the significance of the children and caregivers of the senior citizen in reaching a centenarian milestone, "Amo gyud nang irecognize ang mga caregiver kay sila man gyud ang nag hatag ug panahon para sila [Lola] muabot ani nga edad (We recognize the caregivers of our senior citizens because they devote their time for them [Senior Citizens] to reach this age)," Aranas said.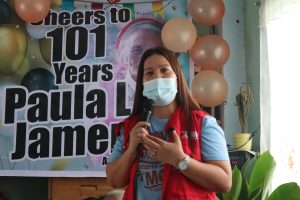 According to Vergilio, "Lipay gyud ko nga naka-amuma pa ko sa akong mama ug miabot pa siya ani nga edad (I am happy that I get to care of my mother and that she reached this age)."
"Hinaut unta nga ang mga tag tungod sa mga senior, ajuhon unta nila pag care samtang maajo pa ang atong mga panglawas ug pandungog kay muabot ang panahon nga kita pod mahisama kanila (I hope that those who are looking after senior citizens would take good care of them while we are still able because one day we will be needing the care they need today)," Lola Paula's son added.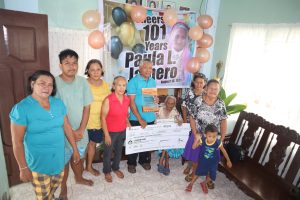 When asked about the secret to her long life, Vergilio shared that it was his mother's active lifestyle of planting and farming that strengthened her body and spirit.
But what's more surprising is Lola Paula's occasional beer drinking session all by herself while looking at the view of Mainit Lake not far from where they live even at her age.
Like the flowers in her baro't saya, Lola Paula continues to bloom at 101.