When a person reaches a hundred years old, what is often asked is the secret behind their long life. The answers vary from diet, exercise, and more factors about lifestyle.
During the visit of the Department of Social Welfare and Development (DSWD) Field Office (FO) Caraga to Malimono, Surigao del Norte last October 7, 2022, a different secret was discovered.
The senior citizens in the municipality were present and excited as it was the culmination of the Elderly Week Celebration and they were all thrilled to receive gifts from the Local Government Unit of Malimono such as a bag of rice with canned goods.
But the highlight of the celebration was what the Agency was there for – the awarding of Malimono's Centenarian, Nanay Fausta C. Dumali who turned 100 years old last September 22, 2022.
She was smiling with her squinty eyes and was waving at everyone with her wrinkled hands. "Salamat sa inyong pag tabang sa ako (Thank you for helping me)," she said when everyone congratulated her.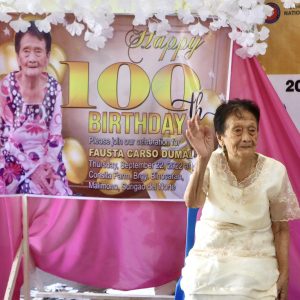 According to her daughter, Leonila, they make sure she is always happy and stress-free as their father did. "Amoa rang tatay ang nag-uma sauna. Ako nanay sa bayay mag atiman sa amoa, di jud siya ipahago sa akong tatay, (Our father was the one who farmed while my mother was a housewife. He did not want her to be stressed)," Leonila added.
In the words of Bell Hooks, "Love is first and foremost exemplified by action – by practice – not solely by feeling." Despite her age she is ever vibrant and active. "Karon, sayo sa buntag manilhig pa na siya sa garden (She still tends to our garden early in the morning)," Leonila shared.
Leonila also shared why people should continue to nurture their parents and said, "Angay jud nato ampingan atong ginikanan kay di ta maingon ani [kung unsa ta karon] ug wala atong ginikanan (We should take care of our parents because we wouldn't be where we are today if not for them)."
The Department of Social Welfare and Development (DSWD) Field Office (FO) Caraga awarded Nanay Fausta Dumali of Malimono, Surigao del Norte Php 100,000.00 in accordance to Republic Act 10868 also known as the Centenarians Act of 2016 through the Agency's Centenarian Program.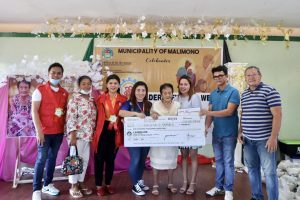 The Local Government Unit of Malimo also handed Nanay Fausta Php10,000.00 as the municipality's counterpart in congratulating her for this feat.
Still smiling with her eyes, Nanay Fausta told DSWD Caraga, "Ka lajo pa man diay kamo gikan, salamat karajaw (You came from a far place, thank you so much)."