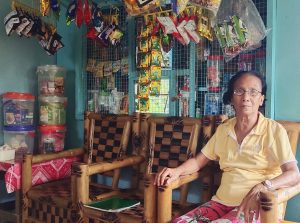 When the pandemic hit the country in 2020, people's lives were disrupted. Due to the implementation of the community quarantine, many lost their jobs and livelihoods. It was truly a distressing season.
Juliet Terrano, a senior citizen from the municipality of Basilisa, was not spared from the hardship brought by the pandemic. Her small sari-sari store which she opened in 2015 was severely affected as she was left with no choice but to get their needs from her store and to close it due to poor sales.
Juliet thought that she will never be able to open and resume her small business again. Recovery was hard because she had no other means of income.
Despite the doubts in her head, Juliet instilled hope in her heart. There was a little voice inside her – reassuring her that she will be able to recover from the economic loss she was through.
Fortunately, Juliet was identified by the Local Government Unit of Basilisa as eligible to receive livelihood aid from the Sustainable Livelihood Program (SLP) of the Department of Social Welfare and Development (DSWD). Through the DSWD-SLP's Livelihood Assistance Grant (LAG), Juliet received Php15,000 as a capital fund to replenish the products and items in her store.
LAG is a recovery response program of the national government that seeks to help low-income families in informal sectors whose economic activities were affected by the imposition of the enhanced community quarantine. This program is one of the initiatives under Republic Act 11469 or the Bayanihan to Heal as One Act.
"Dako nga tabang ang nadawat nga Php15,000 para madugangan ang akong pang-kapital sa negosyo (The Php15,000 grant that I received is a huge help because I can use it as additional capital for my business)," Juliet shared.
Further, Juliet also shared that she always wanted to venture into a sari-sari store because she thinks that this will also help her community. She said that her neighbors will not have to spend much and go to the town proper anymore to buy their needs because she has already stocked up their basic needs in her small sari-sari store.
"Gi-mugna nako ang tindahan para diii name makapalit sa among panginahanglanon sa gawas ug makatabang pa ko sa among mga silingan (I opened the store so that we do not have to purchase our needs at the town proper. In this way, we can also be of help to our neighbours)."
True enough, Juliet's store became a blessing in their community when the Province of Dinagat Islands was hit by Typhoon Odette on December 16, 2021. Seeing how her community was badly affected by the onslaught of the typhoon, Juliet immediately opened her sari-sari store to her neighbors. She shared rice so that her community can have something to eat.
Juliet said, "Dako tabang ang tindahan. Panahon sa kalamidad, nakahatag pako og bugas sa among silingan para lung-agon kay wala gyud abli nga tindahan (The store has been a great help. During the calamity, I was able to share rice to my neighbours so that they can cook because at that time, not a single store was open)."
For Juliet, this act of kindness she had shown to her neighbors was her way of giving back to the community. She felt that it was time to extend help to the people around her because she knows the feeling of being stuck in a hopeless situation. Juliet expressed that she just wanted to return the goodness and blessing that came her way when she was still the one in need.
At present, Juliet and her son continue to manage their sari-sari store with the hopes that they can expand it. After everything that has happened, Juliet is just grateful that even in her own little ways, she was able to give back to her community. (Social Marketing Section/DSWD Field Office Caraga)