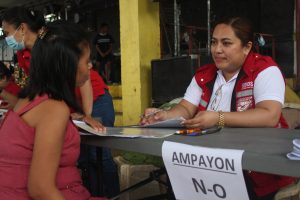 DSWD Caraga's Pantawid Pamilyang Pilipino Program (4Ps) has then again proved to be the top performing Regional Program Management Office (RPMO) in the country, as it completed the Set 12 registration of potential 4Ps household beneficiaries in the region – the first RPMO to finish this year.
As early as March 31, the RPMO has completed its validation of its 51,113 target household beneficiaries for 2023. However, of the total validated households, only 41,842 of them will be up for registration for Set 12.
Some 2,747 households will be delisted from the Program due to duplication of entries (1,154 HHs) and has no qualified dependents (873 HHs). Some 515 families have waived as they are now financially stable and 205 HHs are not interested to avail themselves of the Program.
Some 12.47% or 6,376 household beneficiaries will be deactivated as they have transferred to other regions (45 HHs), while 6,331 HHs could not be located. Moreover, 148 HHs will be further assessed by the RPMO.
As of April, the RPMO has finished encoding the registration to the system.
Meanwhile, DSWD Caraga Mari-flor A. Dollaga was elated since Field Office Caraga was the first to accomplish the feat, saying: "Set 12 registration in other regions is still ongoing. We are the first in the country to complete the job."
Director Dollaga commended the 4Ps staff for their professionalism, good performance, and determination in accomplishing the mission and vision of 4Ps.
The 4Ps is the national poverty reduction strategy and the human capital investment program of the government that provides conditional cash transfer to poor households for a maximum of seven years to improve the level of health, nutrition, and education.
The enactment of RA 11310, "An Act Institutionalizing the Pantawid Pamilyang Pilipino Program (4Ps)" or the 4Ps Act recognized the critical role of social case management in improving the well-being of the household beneficiaries and in overcoming their difficulties.