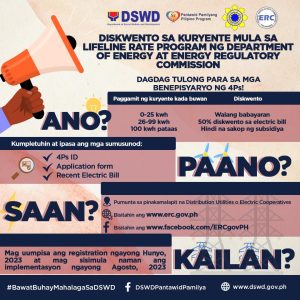 Household-beneficiaries of the Pantawid Pamilyang Pilipino Program (4Ps), who struggle to pay their monthly electric bill, now have reason to be happy as they can now apply for the Lifeline Rate Program of the Department of Energy (DOE) and Energy Regulatory Commission (ERC).
The Lifeline Rate refers to the subsidized rate given to qualified low-income electricity utility customers who are financially unable to pay their electricity bills at full cost, as defined under Section 4 of Republic Act 9136 or the Electric Power Industry Reform Act of 2001 (EPIRA). The Lifeline Rate is a socialized pricing mechanism in the form of percentage discount levels that were set by the ERC.
The Lifeline Rate was amended under Republic Act 11552 in order to enhance the definition of the kind of customers who can avail of the Lifeline Rate. The purpose is to ensure a fair and equitable implementation of the lifeline subsidy among qualified marginalized electricity end-users.
Under the Program, 4Ps beneficiaries or Customers considered to be living below the poverty threshold set by the PSA may apply for the Lifeline Rate, which will only be applied if the kWh consumption for the month is within the lifeline consumption threshold of 100kWh and below. This lifeline consumption threshold may still change subject to ERC guidelines.
For 4Ps Beneficiaries, the validity of Lifeline Rate is based on the annual certified list of 4Ps beneficiaries provided by DSWD. A qualified customer is eligible to receive the Lifeline Rate if he/she remains on the updated list.
To apply for the lifeline rate subsidy, eligible households can submit an application form, a recent electricity bill, a valid government-issued ID, and, for non-4Ps households, a certification from the local Social Welfare Development Officer (SWDO) issued within six months prior to the filling of the application that his/her household is below the poverty threshold.
All qualified marginalized end-users shall continually meet the criteria in this Act to avail of the lifeline rate, part of the guidelines reads.