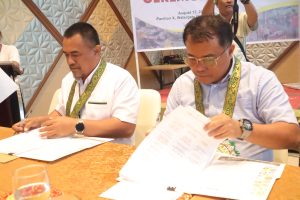 The Department of Social Welfare and Development (DSWD) Field Office Caraga, together with 16 national government agencies, convened jointly and inked a Regional Memorandum of Understanding in support of the creation of the Regional Convergence Team Initiative at the Pavilion, Butuan City – August 17, 2023.
This convergence initiative takes after the Enhanced Partnership Against Hunger and Poverty Program – a flagship program of the Inter-Agency Task Force-Zero Hunger, which aims to mitigate hunger, ensure food and nutrition security, and reduce poverty in urban and rural communities. Further, the participating agencies are divided into three pillars based on the program design and their functions: support, demand, and supply partners.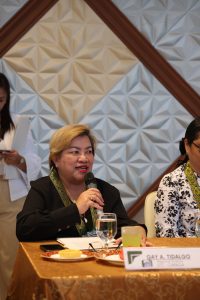 Specifically, these are the agencies and offices involved in this convergence initiative aside from DSWD: Under the demand side, the agencies are the Department of Health, the Department of Education, the National Nutrition Council, and the Bureau of Jail Management and Penology. Belonging to the support side are the Department of Information and Communications Technology, Cooperative Development Authority, Department of Agriculture-Agricultural Training Institute, Department of the Interior and Local Government, Department of Science and Technology, Department of Trade and Industry, Commission on Population and Development, Technical Education Skills and Development Authority, and Land Bank of the Philippines. Lastly, the National Irrigation Administration, Department of Agrarian Reform, Department of Agriculture, Bureau of Aquatic Resources, and DSWD's Sustainable Livelihood Program are classified as supply partners.
In a video message, Regional Director Mari-Flor Dollaga emphasized that the DSWD shares a similar goal with the other organizations: to serve the communities by helping them have better living conditions.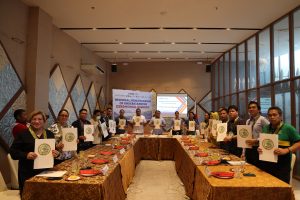 "Our agencies may differ in program designs, each serving its purpose, but we all share common goals and visions as government workers: to help uplift the lives of our people by providing them with our specialized services," Director Dollaga said.
Regional directors and managers of participating agencies also gave their messages to express their commitment to implementing this initiative and helping community-based organizations in the region.
On behalf of Director Dollaga, OIC-Assistant Regional Director for Operations Jean-Paul Parajes signed the agreement with other agency directors, managers, and representatives. (Social Marketing Section/DSWD Field Office Caraga)