Lorena, a resident of the Home For Girls (HFG) of the Department of Social Welfare and Development (DSWD) Field Office (FO) Caraga, won a silver medal for the 200-meter run at the recently conducted Palarong Pambanasa Special Games last July 26 – August 9, 2023 in Marikina City.
She currently attends a Special Education Elementary School. Her teacher identified Lorena to represent their school for the School Sports Meet-up for Palarong Pambansa Special Games held at Remedios T. Romualdez (RTR) Elementary School, RTR, Agusan del Norte, last April 2023. She won second place, which paved the way for her to compete against other representatives from the other regions during the national meet."
When asked about the experience, Lorena had this to say, "Nalipay [ko] kay naka apil ko sa Palarong Pambansa. Kadtong nag dula na nakulbaan ko pero pagkahuman nalipay gihapon ko. (I am happy that I get to join Palarong Pambansa. I felt nervous while playing but I felt happy when it was over.)"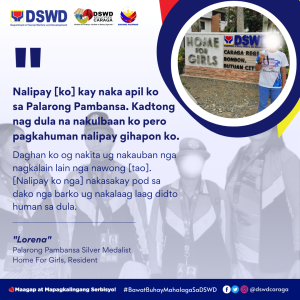 "Daghan ko og nakita ug nakauban nga nagkalain lain nga nawong [tao]. [Nalipay ko nga] nakasakay pod sa dako nga barko ug nakalaag laag didto human sa dula. (I saw different faces [of people]. [I am happy] that I was able to embark on a big boat and got the chance to roam around)," Lorena added.
The Agency celebrates Lorena's feat and looks forward to more chances for the residential care facilities' clients to grow and acquire opportunities to explore and discover their full potential.
"Aside from the fact that this is part of our job, the feeling is always special when we become part of their once-in-a-lifetime opportunity like the Palarong Pambansa, another first for HFG," HFG Center Head Ms. Marissa Garay expressed.
"The HFG workforce strives to support and encourage our children to discover and develop their skills by engaging them in activities available in the center and at the same time linking them with the services from other agencies," Garay added.
As the song goes, DSWD Caraga will double its efforts in showing its greatest love to the children by letting them see the beauty and potential that they possess to give them a sense of pride. This is to instil in them that adversities in life do not define who they are and cannot stop them from becoming who they are supposed to be.
While the centers ensure to provide protection and rehabilitation services through temporary residential care to neglected, dependent, abandoned, abused, and exploited children and to those with special needs such as children at risk and children who require alternative family care – as an agency, DSWD Field Office Caraga guarantees that the children under its care have equitable access to opportunities and are enjoying their rights.