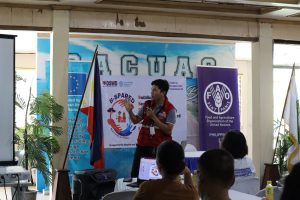 The Department of Social Welfare and Development (DSWD) Field Office Caraga together with the Food and Agriculture Organization (FAO) held an orientation on the Building on Social Protection for Anticipatory Action and Response in Emergencies and Disasters (B-SPARED) pilot implementation to the Financial Service Providers (FSPs) and local markets in Bacuag, Surigao del Norte, September 1, 2023.
The orientation's primary objective is to help the stakeholders become familiar with the B-SPARED project and ensure that everyone understands their roles and objectives of the pilot phase. It also addresses concerns for the successful implementation of the pilot project.
Participated by 2 FSPs, 10 local markets, and staff from the local government unit of Bacuag, the orientation seeks to create a shared vision and promote effective collaboration among all stakeholders involved in the social protection projects for anticipatory action and response in emergencies and disasters.
The next phase of the said activity was orientation to the target beneficiaries of the B-SPARED project.