"Himala" is a classic film produced during the golden age of Filipino cinema – the early 1980s by the prolific director Ishmael Bernal. The film tells the story of a woman named Elsa; which later on became an iconic movie character, who's movie lines will linger on for generations. In the Walt Disney Animation film "Frozen", an iconic character also captured the hearts of both young and those young at heart; a mythic and magical character named Elsa of Arendelle.
In Kitcharao, Agusan del Norte a 55-year old woman also goes by the same name.
Elsa has been residing in Barangay Mahayahay for 22 years. She was wedded to Claudio Mantilla, a pastor, and were blessed with five children. Through the funding of a religious organization, Pastor Claudio was tasked to lead a local church in Mahayahay wherein a tribe of Mamanwa resides.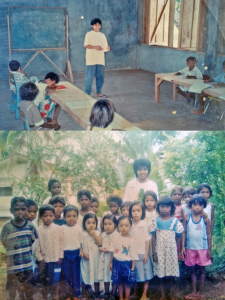 "Sa hinay-hinay amo tagsabot an kultura sa mga Mamanwa, labi na an ila sinultihan. Tapos nagtapok ako nan grupo sa mga kabatan-unan para matudluan sila nan simple na pagbasa sanan pagsuyat (Little by little, we understood the culture of the Mamanwas, especially their dialect. Part of our ministry, I formed a group for young adults and taught them basic skills in reading and writing)," Elsa said.
Elsa lived a life of service, especially leading the local church her husband serves. But what used to be service for a congregation expanded when she became a Pantawid Pamilyang Pilipino Program (4Ps) beneficiary. She was identified as one of the Parent Leader for the Program (4Ps) in 2011.
What used to be a simple advocacy in helping the Mamanwa members of their congregation, turned into a vocation of sorts, since now she helps more families in their barangay, through the 4Ps program. From simple reading and writing classes, her literacy lessons expanded to life lessons, tackling subjects such as parenting, health and hygiene, even financial management. She was now educating parent group members of the program, not only members of their congregation.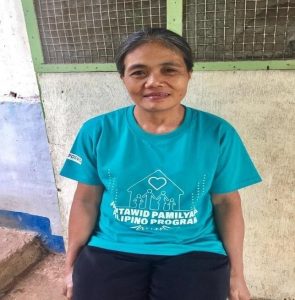 As stipulated in the Chapter 12 of Pantawid Pamilya Operations Manual, the establishment of parent groups "serves as a strategy to establish peer support and monitor compliance with the conditionalities of the program." This includes the election/selection of one parent leader per group.
For nine years, Elsa has performed her duties well. She provides support to the Mamanwa community, even extending her help to those who are sick and personally assists pregnant women, even bringing them to the healthcare facilities for check-ups and those who are about to give birth. She also lobbies to their church administration if there is a need for financial assistance to her fellow Pantawid beneficiaries. She is an advocate of pre to post-natal care and child immunization among Mamanwas.
"Bilib gajud ako na jaoy amo inahan na pareha sa ija, na nakaimpluwensya sab sa amo na magtinarong kami pag-eskwela sanan makatapos bisan lisod an panginabuhi (I am very proud of our mother for influencing us to do well in our studies and finish our studies amidst the difficulties we have financially)," Ana Grace, one of Elsa's daughters, shared.
Ana Grace graduated in Caraga State University with a degree in Bachelor of Science in Agriculture. Her sibling Ana Mary also got a degree in Elementary Education in the same institution.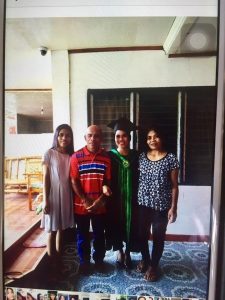 For Elsa, learning is a never-ending process so she attended the Alternative Learning System (ALS) – Fish Processing and Value-Added Products and graduated in 2014. Her desire in inflecting the value of health education led her to join the Tribal Children's Literacy Program and complete a teacher-in-service (TIS) training in 2016. During the course of TIS training, she learned lesson planning, concept teaching, critical thinking, managing time, and the language and philosophy of education. These trainings and seminars that she had led her in obtaining an advantage in teaching the young adults in the Mamanwa community she is serving.
"Samtang buhi pa ako, dili ako kapuyon sa pagtabang ug pagtudlo sa mga Mamanwa. Ako ini giisip na panalangin na mahatagan nan oportunidad para makit-an an ila paglambo isip mga IP (As long as I live, I will never get tired of helping and teaching the Mamanwas. I feel so blessed to have been given the opportunity to witness the progress of our indigenous peoples)," she shared.
Without a doubt, when Nora Aunor in her portrayal of Elsa said, "Walang himala! Ang himala ay nasa puso ng tao! Nasa puso nating lahat!" the 4Ps parent leader in Mahayahay could attest. A leader, an educator, and an advocate. These are just few of Elsa's qualities that she uses to bring change, if not miracle, in their locality.  ###(Social Marketing Section/DSWD Field Office Caraga)