In 1992, when the reported cases of poliomyelitis totaled to 5,485 in the Western Pacific, a three-year old from Rosario, Agusan del Sur was one of them.
Jimmilyn Roxas witnessed how her left leg changed gradually because of polio. From being healthy and normal, her leg became frail affecting her ability to walk. She was constantly bullied by her playmates labelling her as "kimpang" – Bisaya term for lumpo or lame.
"Sa nagdako ko, sakit kaayo ang akong mga nadunggan nga panaway. Usahay gusto nako nga mulaban, pero gipili nalang nako nga muhilak, ug mangutana nganong nahitabo man sa ako ni (Growing up, I experienced and heard hurtful words. Sometimes I wanted to fight back, but I just chose to cry, and ask why this happened to me)," Jimmilyn recalled.
Accepting the reality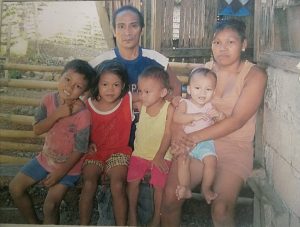 With the help of her parents, she was able to overcome these feelings and accepted the reality that she will forever carry this disability with her, so she decided to do something about it. She started to have a goal. Even with weak legs, she was active and in the different activities in her community. She was vocal on issues that affected her well-being and that of her community. This strong personality was what she built with the support and encouragement of her family.
Even with the disability, her personality was what people appreciated. It was what 34-year old Robert Masadog, a neighbor, got attracted to when he was able to know Jimmilyn better.
Robert remembered the time when people were giving him unsolicited opinion/advice, telling him to look for other women – those without any disabilities. But he proved to them that what he felt for Jimmilyn was true. Even with the 14-years gap, Robert managed to prove his love to Jimillyn, and convince her parents that he was the man for her. They decided to live together, and were blessed with four children.
Rearing and raising four children was hard for Jimmilyn. Due to financial constraints since she was unable to pursue her studies. But she did everything to secure their children's education.
Believing in her capacity
"Gidawat nako nga dili na gayud ko makahuman og eskwela, mao nga maningkamot ko na mapahuman ang akong mga anak (I accepted the fact that I will no longer finish my studies, that is why I will strive hard to let my children finish theirs)," she said.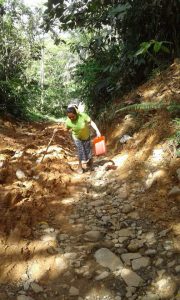 To their rescue came the Pantawid Pamilyang Pilipino Program (4Ps). This is the national government's answer to the call in uplifting the well-being of the poorest Filipino families. With the cash grants focused for the health and education of the households, the Program also aims to end the inter-generational cycle of poverty in the country.
The aid she receives from the Program helped her in sustaining her children's education. More than this, her self-confidence grew when she was elected as a parent leader in 2019.
Her neighbors saw her efforts and started believing in her capacity, and sense of responsibility. They chose her to be their leader/lector of Gagmayng Kristohanong Katilingban (GKK). As the president of the GKK, she leads her community and most of the time decides to whatever endeavors and activities they will venture in to. She became the voice and the head of their church.
Moreover, she is an active member in the school's Parent-Teacher Association (PTA) and was even elected as an officer. In their barangay's women's group, she was also elected secretary for 4 consecutive years. These are all because of her eagerness to learn, adapt, and help in their community, even with her frailty.
Gearing towards empowerment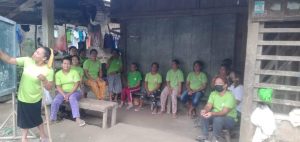 "Despite her situation as PWD, we salute her for performing her tasks impressively. The pitied, bullied, and belittled individual became one of the most trusted and respected in the community I am assigned with," Bonna Fe Paguya, Pantawid Pamilya Municipal Link said.
According to the Philippine Statistics Authority, PWDs in the Philippines are around 1.5 million which is 1.5 percent of the total population of the country.
Jimmilyn belongs to this 1.5 percent. Her disability may have weakened her spirit before but it defined who she is today. She faced her weakness head on. She did not crumble. She confronted her flaws with bravery like a raging bull preparing to attack the wagging red cloth.
"Karon, makaingon ako na usa ko ka-empowered na babae kay wala ko nako nahadlok nga mahimong babag ang akong pagka-PWD sa pagpanday sa akong kaugmaon, labi na ang kaugmaon sa akong mga anak (Now, I can say that I am an empowered woman because I am no longer afraid that my disability would stop me from building my future, especially my children's future)," Jimmilyn bravely exclaimed.
Indeed, this parent leader with disability from Rosario, Agusan del Sur, leaves no tables unturned to be an empowered Juana; she has no excuses to say Kaya! ###(Social Marketing Section/DSWD Field Office Caraga)