An empowered individual, a loving wife, and a responsible mother – these traits embody Rubelyn Caparo, a Pantawid Pamilyang Pilipino Program (4Ps) parent leader of Barangay Dulag, Butuan City.
For 10 challenging years of being a 4Ps Parent Leader (PL), she harnessed her capacity to be a catalyst in serving her co-beneficiaries. As someone who had limited access to formal education, the DSWD trainings she attended as a volunteer has been a medium for her character development.
"The grantee deserves to be nominated as best parent-leader by knowing the contribution she has imparted in the success of the program implementation. Rubelyn has been a parent leader since 2012 and is so much capable in handling and leading the program beneficiaries," Clarissa Cortez, 4Ps City Link assigned in Butuan City, noted.
Aside from being a PL, she was once a Daycare Worker for three (3) years way back 2010-2012. She was a member of the Tagpulangi Lilo Farmers Irrigators Association, Inc. in 2003 and eventually became the President of the said association in December 2020. In 2018, she became one of the DAWAS (Dulag Water Association) Board of Trustees and President in Tagpulangi Elementary School Alumni and School Governing Council, wherein she received a citation for her invaluable cooperation, assistance, and support extended to the success of the school programs and projects implementation.
An advocate for organic farming, she served as Resource Speaker for the Department of Agriculture and National Irrigation Association in Barangay Dulag and had assisted City Link in the conduct of Family Development Session in Barangay Dulag throughout the years as a parent-leader especially during the COVID-19 pandemic.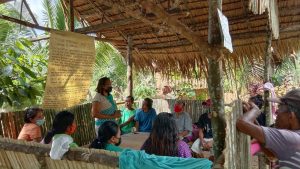 She is also an active member in their church where she serves as a lector. When there are barangay-led activities, the barangay council always tapped her in order to coordinate with the people in the community. Rubelyn also has a knack for farming, this is why due to her voluntary works in the community, she was eventually selected as the Local Farming Technician (LFT) in Barangay Dulag receiving honorarium of P4,000 monthly.
Rubelyn has done a lot not only for the community but also for her family as a wife, and mother to her beloved children Arvin Jay who already graduated from High School, Princess Dianne who is now in Grade 12 and the youngest Princess Nicole who is in Grade 10.
As a mother, she really dreamt of sending her children to college for them to have a better future. She tried her best to give the support her children need, especially in their education, thus the 4Ps cash grants greatly assisted their family in achieving this outcome.
"The lessons I acquired during the monthly Family Development Session are really helpful in reminding us of our roles as parents, as well as to understand the difficulties that my children are facing while growing up. I am so glad that my children also excel in their studies and actively participate in youth activities in the community and school," Rubelyn said.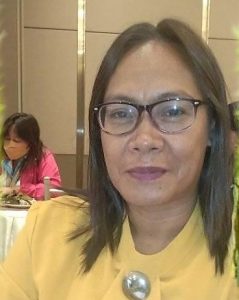 As a wife and a partner, she learned that it takes two to tango. Her husband Alrio would never be successful or be able to achieve his plans for his family if Rubelyn had not been supportive to him. When the family was facing financial problems, Rubelyn made sure she found means to assist her husband. Her helping hand has always been so effective in encouraging his husband to work hard for the family.
Volunteering in their community brings countless joy to Rubelyn. Through volunteerism, she was able to develop within herself the integrity working with the people, especially the needy ones. They learned to trust and learn from her as well, and the other way around. She is also willing to delegate tasks to her fellow farmers and Pantawid beneficiaries when needed.
Above all, working as a volunteer heightened her influence and self-awareness which eventually gave her the confidence and power to work with the people around her.
"The confidence and knowledge I gained is from me being a volunteer. Indeed, education comes in different ways, it is the mother of leadership," Rubelyn shared. ###(Social Marketing Section/DSWD Field Office Caraga)###(Social Marketing Section/DSWD Field Office Caraga)