For 11 years of being a grantee, she considered the Pantawid Pamilyang Pilipino Program (4Ps) as one of the great things that came in her lifetime.
Dionesia Sepocado, 45, is one of the 141 registered households in Barangay Berseba, Bayugan City. Even then, she was used to doing almost everything – from being a wife, a mother to three, a sari-sari store vendor, and a purok secretary.
She became a parent leader in 2011; it has been 11 years now. She is grateful for being a parent leader of 4Ps as this opened door for opportunities.
"While in the program, her act of volunteerism continues to grow even more. She is a popular go-to-guy in their barangay who facilitates the needs of her fellow 4Ps especially those who need hospitalization and other services," Honey Mae V. Saminado 4Ps City Link assigned in Bayugan City, attested.
After a year of being a 4Ps beneficiary, she was offered by the punong barangay to run for local elections due to her act of volunteerism.  Every election, Dionesia always won even with minimal expenses for her campaign. She was seated as a barangay kagawad from 2013 up until present. When she served barangay Berseba, she headed the chairmanship of the Committee on Health, Women, and Persons with Disabilities from 2013-2018.  In her second term, she led the Infrastructure Committee, Regulations, and Peace and Order from 2019 to present.
Dionesia also attended numerous trainings in different institutions from government agencies to private and church institutions.  She is able to balance her service to her community, family, and church.
However, life is not good all the time for her. She was affected by the road widening and clearing in their barangay where their house was partially demolished. It was difficult for her to accept that the house they have beautifully built for many years was partly damaged.
"Dawaton lang gihapon ang mga kahimtang na naagian sa among pamilya (We will accept the difficulty in every aspect that my family experienced). For I believe that whatever difficulties we might experience, these shall come to pass and will leave a mark of thriving life," Dionesia shared.
She never was discouraged by the hardships she experienced.  Her life continues to thrive.  She acquired a few properties while she continues to benefit from the program.  They were able to acquire two hectares of farm land which she planted with farm products like Coconut, Banana, Falcata trees, and Abaca.  Dionesia availed Abaca seedlings from the Department of Agriculture.

Moreover, her children all went to school.  Her eldest son Dionel John is already in fourth year college taking up Bachelor of Science in Secondary Education (BSED).  He is a consistent CHED scholar, an ROTC officer, and is now planning to enter the Armed Forces of the Philippines (AFP). Her second child Nilo Jr. recently got married last month. Dionesia helps her daughter-in-law in her studies, especially the financial aspect. Her youngest child Jashfer is a Grade 8 student in Berseba National High School.
For five consecutive years (2015-2019), Bayugan City celebrated the Convergence Day, a one-day activity where partner-beneficiaries showcase their beauty, talents, and products through these three competitions: Pantawid Got Talent, Ginang Pantawid, and Pantawid Product Display.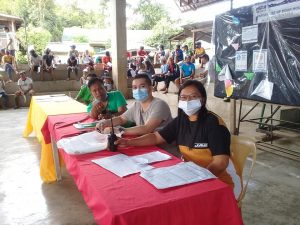 In 2018 she became one of the empowered contestants in Ginang Pantawid. She led her members in participating in the product display contest for five years straight wherein they bagged the 3rd place in 2019. In 2020, combating the Covid-19 pandemic has not been easy. She became one of the frontliners at the designated checkpoint and Social Amelioration Program (SAP) facilitator in their barangay.
When many had no jobs during that time, Dionesia helped her fellow 4Ps benes to earn some income. She bought the farm products of the farmers in their barangay and she personally contacted buyers from Poblacion, Bayugan City to buy the products.  This way, farmers still gained some income.
These are just a few of the voluntary works of Dionesia in their barangay and the community. This 2022 and the coming years, she is more than ready to soar high towards Program exit, having been declared as one of the self-sufficient households in the Region.
Her story is truly an inspiration to all 4Ps beneficiaries. Her story is a testament that opportunities like the 4Ps program can do so much for the beneficiaries, as long as they take advantage of the learnings and earnings of the program. ###(Social Marketing Section/DSWD Field Office Caraga)